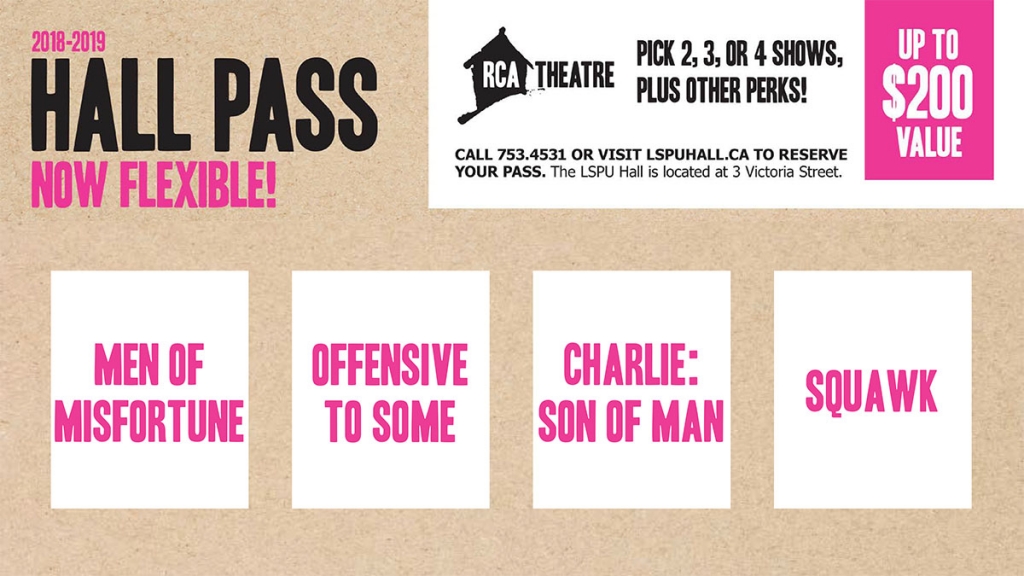 RCA Theatre Company's
2018-19 Hall Pass 
Written by Charles Picco
Featuring Andy Jones & Greg Malone
Directed by Nicole Rousseau
Written by Berni Stapleton
Directed by Ruth Lawrence
Featuring Miranda MacDonald
Written by Adrian Yearwood
Directed by Victoria Fuller
Squawk (April 12, 13, 18 & 20, 2019)
Written by Megan Gail Coles
HOW IT WORKS
Introducing our flexible Hall Pass: The more tickets you buy, the higher the savings (up to 40% off)!
Pick 2 Shows: $60 (Includes two drink tickets)
Pick 3 Shows: $84 (Includes three drink tickets)
Pick 4 Shows: $120 (Includes four drink tickets)
Pick 4 Shows to include the following additional perks:
 Free admission to all four issues of Live Magazine! A multi-curated, multi-disciplinary cabaret series in our Cox & Palmer Second Space (RSVP required. E-mail communications@lspuhall.ca within 48 hours of showtime to reserve a seat. Subject to capacity. $40 value. Shows start at 8pm on October 15, 2018, November 19, 2018, February 11, 2019, March 25, 2019.)
A Supporter RCA Membership
Exchanges for each show are subject to availability. Drink tickets may be used any time the bar is open.