Live Magazine! Volume 6, Issue #14 Curated by First Light
March 25, 2019 @ 8:00 pm

-

9:00 pm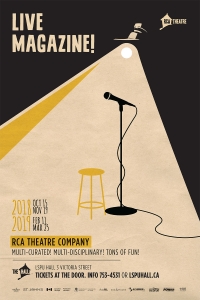 Monday, March 25th
8pm.
Cox & Palmer Second Space
Tickets $10 at the door
This issue will be curated by First Light! Stay tuned for performer announcements!
Live Magazine! is a multi-curated, multi-disciplinary series that takes place in our Cox & Palmer Second Space. Each show features an evening of entertainment curated by a different artist in the community. As always, there will be happy hour drink prices and free snacks.
This season, Live Magazine! will take place on:
Monday, October 22, 2018 – Volume 5, Issue #11, Curated by Paul Power
Monday, November 19, 2018 – Volume 5, Issue #12, Curated by East Coast Drag Company
Monday, February 11, 2019 – Volume 6, Issue #13, Curated by the Refugee and Immigrant Advisory Council
Monday, March 25, 2019 – Volume 6, Issue #14, Curated by First Light
Live Magazine! Multi-Curated, Multi-Disciplinary, Tons of Fun!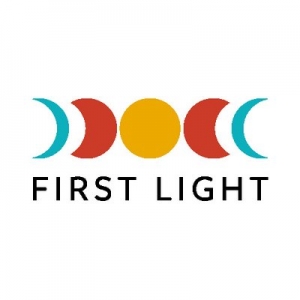 Curated by Jenelle Duval of First Light
First Light, St. John's Friendship Centre is a registered non-profit organization that serves the urban Indigenous and non-Indigenous community alike by providing programs and services rooted in the revitalization, strengthening and celebration of Indigenous cultures and languages in the spirit of trust, respect, and friendship.
Featuring Performances and Interviews by
Joanna Barker
Joanna Barker is a St. John's based singer, songwriter, and musician from Grand Falls-Windsor. Her debut solo album earned her two Music NL Nominations and a spot on the Atlantis Music Prize Short List. Her new band, John, was just voted Best New Band of 2018 by readers of The Overcast. They will be releasing their first album this year (funded by ArtsNL and the City of St. John's). Joanna is also a proud member of Eastern Owl, who are about to release their second and highly anticipated album (funded by ArtsNL). "Joanna Barker has an intensity and intimacy in these songs that makes them compelling." – Lisa Moore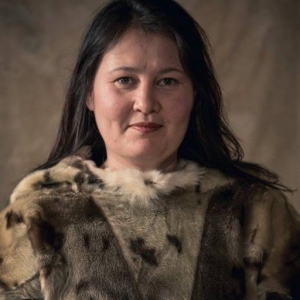 Sophie Angnatok
Sophie Angnatok is an Inuk performer originally from Nain, Nunatsiavut. Inspired by a newspaper clip of her Anasiak Elizabeth Andersen, Sophie has been practicing the art of throat-singing and traditional Inuit drumming for nearly two decades. She has been performing for diverse audiences locally and across the country. Her career has led her to be involved in many festivals, community functions, and arts-based events. She even performed for the Prime Minister during The Truth and Reconciliation apology for Labradorimut. Sophie currently lives in St. John's, Newfoundland where she plays an active role with her local urban Inuit community. She often shares her love and knowledge of Inuit culture and is a leader in her practice.
Eastern Owl
Eastern Owl is known locally and nationally as a unique group of women who blend the styles of First Nations Drum Music and Contemporary Folk to create their own innovative sound. A powerful ensemble of seven vocalists, they have been captivating audiences at festivals and concerts across Canada. With deep roots in community, Eastern Owl has committed to deepening their connection with their traditional practices while helping to educate indigenous and non-indigenous audiences alike.
Jerry Evans
Jerry Evans is Mi'kmaq born in central Newfoundland. In 1986 he graduated from the Nova Scotia College of Art and Design with a Bachelor of Fine Art. He completed an Education Degree at Memorial University of Newfoundland and Labrador and has been a practicing Visual Artist for over thirty years. Primarily a painter and printmaker, Jerry is also is a multi-media artist who has worked in film, has qualified and reclaimed traditional single poke tattoo as a means of expression and gift exchange, and has created regalia for his own pow wow dancing for more than a decade.
Jerry coordinated and was principal researcher for the 1996 exhibition FIRST: Aboriginal Artists of Newfoundland and Labrador, which presented works by aboriginal artists in Newfoundland and Labrador to provincial audiences, and for many years worked as shop technician and master printer at St. Michael's Printshop in St. John's where he has helped artists like Gerry Squires, Christopher Pratt and Michael Robinson render their work as lithographs. His own visual artwork has been exhibited across Canada, and internationally and is included in private and public collections across the country. He has been an Artist-in-Residence in Canada and Ireland, has received grants from the Canada Council and the Newfoundland and Labrador Arts Council, and is working to develop and deepen his collaborative creative practice and work with communities.