Live Magazine! Volume 5, Issue #12 Curated by East Coast Drag Company
November 19, 2018 @ 8:00 pm

-

9:00 pm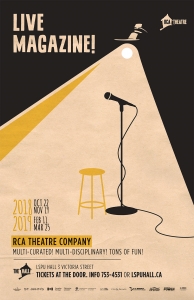 8pm.
Cox & Palmer Second Space
Tickets $10 at the door
This issue will be curated by Fashionista Jones of  East Coast Drag Company and feature performances by Johnny Diamond, Penny Dreadful, Doctor Androbox, and Amber Asstrix.
Live Magazine! is a multi-curated, multi-disciplinary series that takes place in our Cox & Palmer Second Space. Each show features an evening of entertainment curated by a different artist in the community. As always, there will be happy hour drink prices and free snacks.
The next issues of Live Magazine! will take place on:
Monday, February 11, 2019 – Volume 6, Issue #13, Curator TBA
Monday, March 25, 2019 – Volume 6, Issue #14, Curator TBA
Live Magazine! Multi-Curated, Multi-Disciplinary, Tons of Fun!
Admission is free for 2018-19 Hall Pass holders! (Pick 4 Shows in our Hall Pass in order to receive free admission to Live Magazine! Subject to capacity. RSVP by e-mailing communications@lspuhall.ca at least 48 hours in advance to reserve your space.)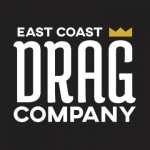 Curated by Fashionista Jones
Fashionista Jones has entertained audiences through out central and eastern Canada for over a decade. She is an authentic queen who always delivers wit, charm and elegance in every thing she's does. Fashionista Jones has also worked with more than a few queens from RuPauls Drag Race and is also a member of ECDC Drag Company here in St. John's Newfoundland. A thespian at heart Fashionista Jones will dazzle and delight you in every way shape and form.
Featuring performances by: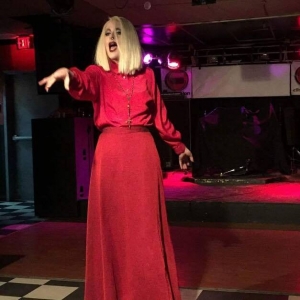 Penny Dreadful
Penny Dreadful may have started as a Halloween Queen, but since her debut in 2013 she has kept the St. John's drag community under her spell. Her unique performances keep audiences enthralled, with their ritual undertones and broad musical horizons. Whether she's playing the vixen, or soaked in blood from head to toe, there's only one thing to know about a Dreadful performance: expect the unexpected.
Johnny Diamond
Johnny started off in the local St. John's drag scene in 2013. They won Drag Idol 2015 and officially became the first Drag King to snatch the coveted spot. An eccentric mix of art, pop culture and all things weird, Johnny always has something a little different planed for his audience. Johnny is the creator and Co founder of East Coast Drag Company. The company, aka ECDC, has quickly found a following and continues to only grow bigger and brighter. He's truly one of the most handsome, talented, witty, smart and humble entertainers out there. Hopefully you'll love him as much as he loves himself!
Doctor Androbox
Loin fruit of Elton John and Ricky Martin, Doctor Androbox is the premier musical drag king of St. John's. Having won Drag Idol 2017, he has focused his efforts on developing the recently launched Androband and will be releasing an album of homegrown inappropriate songs to tickle your bathing suit bits in 2019. Doctor Androbox will delight you with genderbending antics, terrible puns, and enough rhinestones to blind you and your five children.
Amber Asstrix
Amber Asstrix is a rated R drag superstar who always brings something different to the stage. She'll show you leather and lace or high fashion gimp, raw steel and sex appeal or show you the tear away pages of her life. Sometimes it's sexy, sometimes it's funny, sometimes it's kinky, sometimes it's downright gross. Either way, you're gonna end up in her splatter zone.