Live Magazine! Volume 6, Issue #13
February 11, 2019 @ 8:00 pm

-

9:00 pm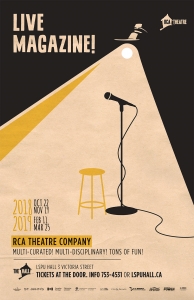 8pm.
Cox & Palmer Second Space
Tickets $10 at the door
Live Magazine! is back for a third season!
Live Magazine! is a multi-curated, multi-disciplinary series that takes place in our Cox & Palmer Second Space. Each show features an evening of entertainment curated by a different artist in the community. As always, there will be happy hour drink prices and free snacks. Stay tuned for performer announcements!
Our Volume 6, Issue #13 curators are The Refugee and Immigrant Advisory Council (RIAC)

The Refugee and Immigrant Advisory Council (RIAC) is a charitable organization that assists newcomers to Canada and St. John's. We don't try to integrate newcomers, but rather give them the tools they need to participate in the community to the best of their abilities. Bringing people of all backgrounds together to celebrate the diversity and culture. We also provide information to the general public about the challenges many newcomers face, in order to make our city a more welcoming place that is better-equipped to interact with people from diverse origins and circumstances.
Performers
Maia Mckeown
Maia Mckeown is a ten year old who loves to play music and has been performing since the age of three, she is passionate about music and has always held a keen interest in learning to play musical instruments and write songs. She won second place last year at her school's annual Arts and Letters competition with her original song "Change". From a Canadian father and a Peruvian mother, her love for both cultures has made her interested in a wide array of music types. Maia is excited to share her love for folk music and Latin America songs. She loves to play the violin and has been a member of the Newfoundland Symphony Youth Orchestra (now called CALOS Youth Orchestras) for several years. Maia has received scholarships from the St. John's Kiwanis Musical Festival for playing both fiddle and classical music. Maia has been a member of the STEP Fiddlers touring group, with numerous performances in and around St John's, at the Newfoundland Folk Festival, and in Norris Point at the Tales, Trails, and Tunes Festival.
Vanessa Cardoso
Vanessa Cardoso is a Multidisciplinary artist, street performer and clown hailing from Brazil, with a passion for contemporary theater and body movement awareness, especially related to Flamenco dancing. The bodily awareness and theatre techniques acquired through workshops on the Laban, Klaus Vianna, Jerzy Grotowisk methods, among others, have highly influenced her acting performances. Clown research experiences, concentrating on the "Pochinko" methodology, started in Brazil and continue to influence her work. Graduated in theatre arts, she has been involved with several artistic groups performing onstage and in street productions, as an actress, dancer, puppeteer and backstage production assistant. She also has given theatre and flamenco dance instruction to kids and adults. Vanessa has been actively engaged in the local arts scene since moving to NL in 2014, participating in artistic workshops and performing in festivals such as the St. John's Buskers Festival, the Lantern Festival, Art Fusion and several performances for new Canadians/refugees. Currently, Vanessa instructs the workshop "Aire Flamenco" as an inspiration for Creativity and Consciousness of Body Movement in CBS.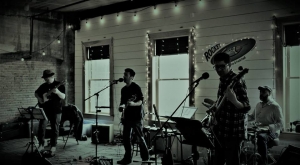 Vuelo Directo
"Vuelo directo" is, as the Spanish meaning of their bandname might suggest, a bunch of newcomers to St. John's who decided to also bring a bit of Hispanic pop-rock to the Rock… so there is no "original material" here…just those songs that you (well, and possibly your parents and even grandparents, depending on how young you are and how groovy they are) grew up with and probably nobody else ever played live in Newfoundland…Yes!!! You can now enjoy live renditions of your favourite classics by the likes of Soda Stereo, Nacha Pop, Mecano, Enanitos Verdes, Los Secretos, Radio Futura, Amaral, and many more. Stemming from from Ecuador, Mexico, Spain, and Venezuela, the core lineup of the project includes Gabriel Vitola (lead guitar), Carlos Vinueza (Bass and backing vocals), Rober Martínez-Espiñeira (lead vocals and guitars), and Jesus Marroquín (percussion).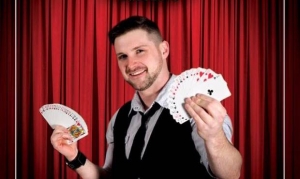 Michael Conway
Michael Conway is an entertainer, performing magic over the past decade, he has played for crowds of all ages and sizes, from intimate parties to sell out theatres. Michael's style of performance is a blend between Vegas showmanship and hilarious comedic timing, he'll surprise, shock, and mystify you.
This season, Live Magazine! will take place on:
Monday, October 22, 2018 – Volume 5, Issue #11, Curated by Paul Power
Monday, November 19, 2018 – Volume 5, Issue #12, Curator by The East Coast Drag Company
Monday, February 11, 2019 – Volume 6, Issue #13, Curated by The Refugee and Immigrant Advisory Council (RIAC)
Monday, March 25, 2019 – Volume 6, Issue #14, Curator TBA
Live Magazine! Multi-Curated, Multi-Disciplinary, Tons of Fun!