RCA Theatre Company Presents Squawk by Megan Gail Coles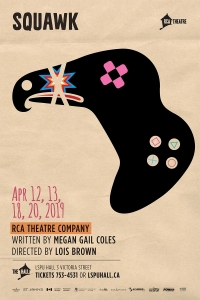 April 12th & 18th at 8pm. April 13th & 20th at 2pm.
Part of RCA Theatre's 2018-19 Hall Pass
Written by Megan Gail Coles.
Directed by Lois Brown.
Annie Runningbird doesn't have time for the games boys want her to play. She's aging out of foster care on her next birthday. The system has decided she is an adult, so Annie must make adult decisions. Where will she live? How will she make money? Demanding grown-up choices preoccupy the young girl's mind as she navigates relationships with boys and men in her company. Does she like Isaac, a cute yet naive boy she met at the mall food court? Can she trust Louis, her older and increasingly overbearing foster care worker? Who can Annie depend on in her ever-shifting world? This intel is important. Because Annie needs to win the very real game she's playing. She must save herself to save the day.