RCA Theatre Company Presents Squawk by Megan Gail Coles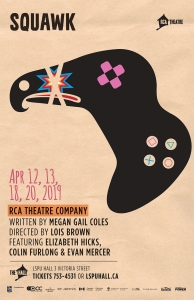 Friday, April 12, 8pm (Featuring a Q&A session after the show with Lois Brown, Director, and Nora Barker, Assistant Director)
Saturday, April 13, 2pm (Featuring a Q&A with Playwright Megan Gail Coles)
Thursday, April 18, 8pm (Featuring a Q&A with Playwright Megan Gail Coles)
Saturday, April 20, 2pm (Featuring a Q&A with Playwright Megan Gail Coles)
Part of RCA Theatre's 2018-19 Hall Pass
Written by Megan Gail Coles
Directed by Lois Brown
Featuring Elizabeth Hicks, Colin Furlong, and Evan Mercer
Assistant Director: Nora Barker
Set Design: Emily Austin
Projection Design: Andrea Cooper
Lighting Design: Robert Gauthier
Costume Design: Melanie Ozon
Sound Design: George Robertson
Stage Manager: Cindy Stone
***Trigger warning: Please note that you may be triggered by the content of the play. The play contains implied physical, sexual and psychological violence. For more info, contact communications@lspuhall.ca***
Annie Runningbird doesn't have time for the games boys want her to play. She's aging out of foster care on her next birthday. The system has decided she is an adult, so Annie must make adult decisions. Where will she live? How will she make money? Demanding grown-up choices preoccupy the young girl's mind as she navigates relationships with boys and men in her company. Does she like Isaac, a cute yet naive boy she met at the mall food court? Can she trust Louis, her older and increasingly overbearing foster care worker? Who can Annie depend on in her ever-shifting world? This intel is important. Because Annie needs to win the very real game she's playing. She must save herself to save the day.
School matinees are available at the LSPU Hall. If you are a teacher and are interested in bringing students to the Hall, please contact communications@lspuhall.ca.
Show Length: 50 minutes
Intermission: No
Squawk Tour
After its run of public performances and school matinees at the LSPU Hall, Squawk will tour the province from April 29-May 17 with the support of the Arts and Culture Centres, Canada Council for the Arts, ArtsNL School Touring Program, and the RBC Foundation's Emerging Artists Project.
Public Performance
May 3 at 7pm – Stephenville, Arts & Culture Centre (Buy Tickets)
School Matinees
April 30 – Gander, Arts & Culture Centre
May 1 – Grand Falls-Windsor, Arts & Culture Centre
May 2 – Valmont Academy in Kings Point
May 6 – Corner Brook, Arts & Culture Centre
May 7 – Long Range Academy School Performance in Cow Head
May 8 – White Hills Academy St Anthony School Performance
May 13 – Mealy Mountain Collegiate High School in Goose Bay
May 14 – Lake Melville School in North West River
May 15 – Northern Lights Academy in Rigolet
May 17 – John Christian Erhardt Memorial School in Makkovik