RCA Presents Charlie: Son of Man by Adrian Yearwood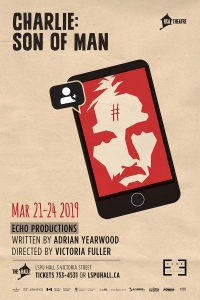 March 21-23, 2019, 8pm. March 24, 2019, 2pm.
Part of RCA Theatre's 2018-19 Hall Pass
Produced by Echo Productions
Presented by Resource Centre for the Arts
Written by Adrian Yearwood
Directed by Victoria Fuller
Choreographed by Emma Bartolomucci
Music Directed by Kyle Duffin
Charlie: Son of Man puts a modern twist on the events surrounding the rise and fall of one of the most infamous characters of the 20th century, Charles Manson. Manson was a master manipulator who was so skilled at identifying and exploiting the weaknesses of the people around him that he was able to gather a band of followers and convince them that he was Jesus Christ come to walk among them, and successfully order them to murder seven people in cold blood during the summer of 1969. Echo Productions have taken the Manson Family story and explored how this situation might be possible in the modern era. The facts are the same but the method has changed – while sex and hallucinogenics were the tools of manipulation that allowed Manson to do what he did in the late 60's, in Charlie: Son of Man he uses sex and today's drug of choice – mobile phones.
Echo Productions will also be peforming their show Context: A theatrical exploration of mental health from March 14-16 at the MMAP Room of the Arts and Culture Centre. Visit echoproductions.ca for more information.