RCA Presents Offensive to Some by Berni Stapleton
January 24, 2019

-

January 27, 2019
Event Navigation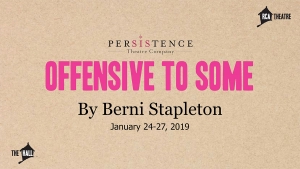 Part of RCA Theatre's 2018-19 Season.
January 24-26, 2019, 8pm. January 27, 2019, 2pm.
Produced by Persistence Theatre
Presented by Resource Centre for the Arts
Written by Berni Stapleton
Directed by Ruth Lawrence
Featuring Miranda MacDonald
Production Management by Mara Bredovskis
Stage Management by Jaimie Tait
Lighting Design by Diana Daly
Sound Design by Lori Clarke
She suffered his abuse for years, and now she's in prison for his murder.
This darkly humorous play is the story of how a Newfoundland survivor of a "little domestic situation" discovers her own strength and self-worth through one extreme act.
Nevertheless, she persisted…
In prison for killing her husband – a man who has abused her for years- her journey as a wife, mother, daughter, but most of all as a woman, is revealed in her interactions with unseen cops and a parade of talk show hosts. Through dark humour, flights of fancy, and dramatic flashbacks that reveal her painful past, an unforgettable and deeply truthful portrait emerges before the audience.