RCA Theatre Company Presents: Tangly, A Holiday Family Panto
December 14, 2017

-

December 17, 2017
Event Navigation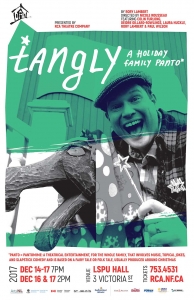 ***WEATHER UPDATE: Saturday's 2pm matinee of Tangly will go ahead but the 7pm performance is cancelled. All tickets for the 7pm show will be refunded and/or exchanged. There is a 2pm show and 7pm show tomorrow Sunday December 17. Please contact our box office at 753-4531 or boxoffice@rca.nf.ca for more info.***
December 14-17, 7pm
2pm matinees on December 16 & 17.
Family passes available for a family of four (max 2 adults). To buy a family pass online, select a quantity of 4 tickets and on the following page, select the Family pricing.
——-
90 min including intermission.
Written by Rory Lambert, Directed by Nicole Rousseau.
Tangly is a Christmas Pantomime that blends Rapunzel with a pinch of Rumpelstiltskin, a tablespoon of Gift of the Magi and a heaping helping of the classic Newfoundland Mummers Play. When spunky Rapunzel Rhubarb is kidnapped by the Old Hag, it's up to Buttons to save her. With a pocketful of sea urchins, a pet jellyfish and a gang of pals at his side he'll venture up the harbour and down the shore; from Greens Harbour to Old St. John's Towne to the depths of the Winter Woods and magical Macaroni Tower to save the day. A play brimming with song and dance, magic spells, audience interaction and zany wit and charm, Tangly will kick off Christmas with a smile on your face and a glow in your cheeks.
Starring Rory Lambert as Buttons, Deidre Gillard-Rowlings* as The Hag, Paul Wilson* as Widow Rhubarb, Colin Furlong as The Prince/The King/Mr. Cooper, and Laura Huckle as Rapunzel, this is a show for the whole family to enjoy.
*The participation of these Artists are arranged by permission of Canadian Actors' Equity Association under the provisions of the Dance.Opera.Theatre Policy."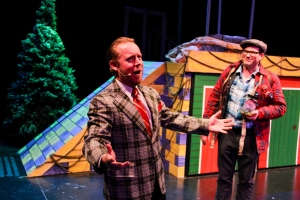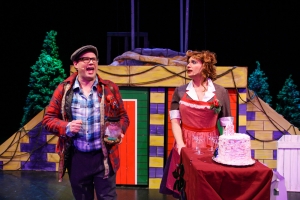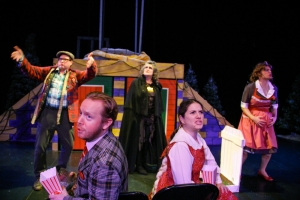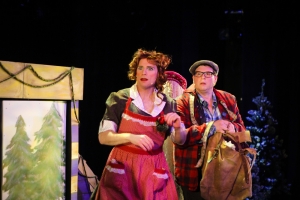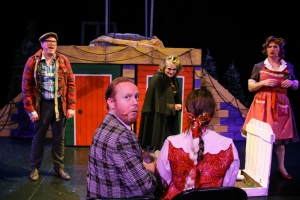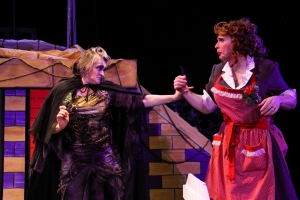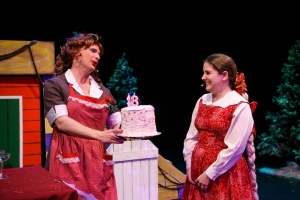 Photos by Ashley Harding.
*Panto = Pantomime: A theatrical entertainment, for the whole family, that involves music, topical jokes, and slapstick comedy and is based on a fairy tale or folk tale, usually produced around Christmas.
—–
The Saturday, Dec 16, 7pm performance of Tangly will be a relaxed performance. A Visual Guide to Tangly can be downloaded here: Visual Guide for Relaxed Performance – Tangly.