If A Place Could Be Made
June 8, 2017

-

June 18, 2017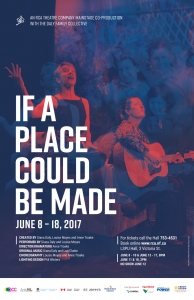 June 8 – 10 & June 13 at 8pm.
June 11 & 18 at 2pm.
June 9-ASL Interpretation Performance.
June 14-Relaxed Performance for audience members on the autism spectrum or would prefer a sensory friendly environment. A Visual Guide is available for download here.
No show June 12th.
Kitty and Daniel Daly of Riverhead, St Mary's Bay, had 12 children, six of whom were very tall and six of whom had skeletal dysplasia which today is also referred to as persons of short stature.
The Daly Family Collective – their great-granddaughter (and great-niece), singer-songwriter Diana Daly, dancer-actor Louise Moyes, and director/collaborator Anne Troake have been asked to tell their stories. In a journey of friendship and song, Diana and Louise bring the Daly family's memories to life through powerful images, tales, songs, dance, laughter, and a bit of Carlton Showband! If A Place Could Be Made is a story about family, strong personalities, great faith, inclusion, expansion, and making the best out of what we have been given.
Created by Diana Daly, Louise Moyes, and Anne Troake
Performed by Diana Daly and Louise Moyes
Director/Dramaturg: Anne Troake
Original Music by Diana Daly and Lori Clarke
Choreography by Louise Moyes and Anne Troake
Lighting Design by Phil Winters
An RCA Theatre Company Main Stage Co-Production with The Daly Family Collective
"Great show and remarkable story…disarming, honest, and uplifting." (Audience feedback)
eyeGO tickets for high school students are available by phone or at the Hall Box Office.
Louise Moyes has a beautiful docudance website! Check it out here – http://www.docudance.com/