Creative Meet-Up: A 2017-18 RCA Season Celebration – CANCELLED
Event Navigation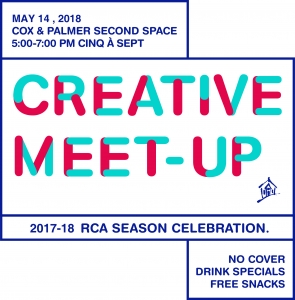 *** Please note this event has been cancelled.****
We have decided to combine today's Creative Meet-Up with our Karaoke at the Hall Fundraiser happening this Thursday at the LSPU Hall! Instead, we invite you to celebrate the close of our 2017-18 season this Thursday, May 17 at 8pm with Karaoke at the Hall with Jody Richardson! There will be good tunes, good food, wonderful prizes and undoubtedly lots of laughs!
————
5-7pm.
Cox & Palmer Second Space.
No cover! Happy hour drinks and free snacks!
Join us for another Creative Meet-Up as we toast the end of RCA's 2017-18 Season.
Between RCA Theatre Company's Mainstage Production of Dedication and Tangly: A Holiday Family Panto, to our presentations of Baker's Dozen: 12 Angry Puppets, Fake Nerd Girl, and Halfhandsome's Almost Baymous, to presenting Aiden Flynn's adaption of Penning the Carol as a joint fundraiser for RCA and Cultural Artists Plan for Emergencies – CAPE Fund, to hosting several artist workshops, to presenting four issues of RCA Theatre's Live Magazine, we have had a jam packed 2017-18 Season!
We want to invite everyone who had a hand in making this Season a success, from the performers and the hardworking backstage crews, to anyone who purchased a Hall Pass or a ticket to any of our shows, to our curators and performers for Live Magazine! Join us for a Season celebration as a way to celebrate what we have achieved!