Karaoke at the Hall with Jody Richardson: A Fundraiser for RCA/LSPU Hall
Event Navigation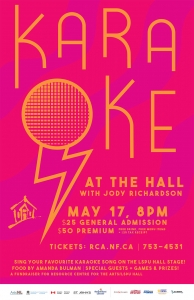 8pm.
$25 Admission/$50 Premium Ticket (Premium Ticket includes a free drink, free menu items, and a $25 tax receipt)
Now is your chance to belt out your favourite karaoke tunes live from the LSPU Hall stage! Jody Richardson hosts Karaoke at the Hall: A fundraiser for Resource Centre for the Arts/LSPU Hall!
There will be special guest karaoke performances by John Sheehan, Steve Maloney, Tara Bradbury, Heather Barrett, and more, with delicious food from local chef Amanda Bulman, and exciting local prize baskets to be won! A great night out for a good cause!
Resource Centre for the Arts is a non-profit organization that operates from the historic LSPU Hall. The funds raised from this event are used by RCA to help subsidize rental rates for all artists who rent the LSPU Hall. Keeping rental rates affordable is an integral part of our mandate to provide accessible, supportive and well-resourced programs and venues, with a primary focus on the creation, development, and advancement of the performing arts in Newfoundland and Labrador.