Megan Gail Coles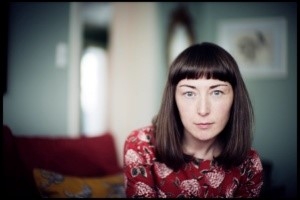 MEGAN GAIL COLES is a graduate of Memorial University, the National Theatre School of Canada and is currently completing her MFA at UBC. She is Co-founder and Artistic Director of Poverty Cove Theatre Company and an award-winning writer. Originally from Savage Cove on the Great Northern Peninsula of Newfoundland, Megan now resides in St. John's where she is the Executive Director of Riddle Fence. Megan is of European/Mi'kmaq descent.
Squawk was developed by Playwrights' Workshop Montréal and first produced by Geordie Productions, Montreal, in September 2015 as a touring play in Quebec high schools and CEGEPs.
"The Squawk commission came upon the heels of a very transforma­tive phase in my mid- adulthood. I was working as a publicist and navigating an unexpected prose career while spending every avail­able moment preoccupied with how I might write an accessible and humorous TYA show about missing and murdered Indigenous girls. To say it was a most challenging assignment is an understatement. I wanted desperately to write a compelling and sophisticated play that provided an opportunity for dialogue across culturally lived expe­riences. Because the subject matter was very dear to my own heart and very important to our reconciling as a nation. I wanted the youth to fully comprehend that prevailing systemic racism and aggressive misogyny is not acceptable and that we must do something to address this. I want our young people to value and protect each other better in the future.
I write this as predominantly male white supremacy groups esca­late mounting racial tension and terror in countries throughout the Western world. They are angry because the historically oppressed have demanded more than the dregs of living for themselves and their loved ones. But we are angry, too. I'm angry. I have quite a lot to be justifiably angry about. Which is to say that this is a play I am most proud of because it is an act of defiance and subversion. I do not consent to social norms that harm vulnerable people. I reject privilege and demand a more inclusive society where all enjoy per­sonal freedom in safety. I feel that art, but theatre especially, has the potential to illuminate the universal right to a dignified life for all and feel strongly that communicating our diverse narratives will move us toward a healthier and happier country.
Thanks to Geordie for insisting, adamantly at times, that I push through the hard stuff and to Emma for her commitment to my work and belief in me. I could never have done it without her. The play is for the special smaller humans in my life. It is for those whom I see daily and for those whom circumstances prevent. I want you all to be kind and well. And to always conduct yourselves in this world with compassion regardless of what is popular, because what is popular is not always right and good. In fact, what is right and good is rarely popular and never easy. But you are smart and strong, and I believe in you.
The play is also for my grandmother who was called a terrible name when she was little because of her not nearly white enough skin." – (Playwrights Notes, Squawk Published, Megan Coles)