Poison by Lot Vekemans
Event Navigation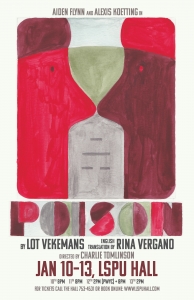 January 9, 8pm (Preview)
January 10-12, 8pm
January 12, 2pm (Pay What You Can matinee – tickets available in person at the door)
January 13, 2pm
A couple meets again after a painful separation. Loss drove them apart but binds them still. This is an extraordinary play about grief, closure, and moving forward.
Starring Aiden Flynn & Alexis Koetting
Directed by Charlie Tomlinson
Poison is widely considered one of the most successful international theatrical hits from the Netherlands. It won the Taalunie Toneelschrijfprijs Award in 2010 for best new Dutch play. It had a critically acclaimed run in New York in 2016, and premiered in the UK at the Orange Tree Theatre in London.