Braxton Comedy Festival Closing Night Gala presented by Boca Tapas Bar
Saturday August 17th
8pm
$30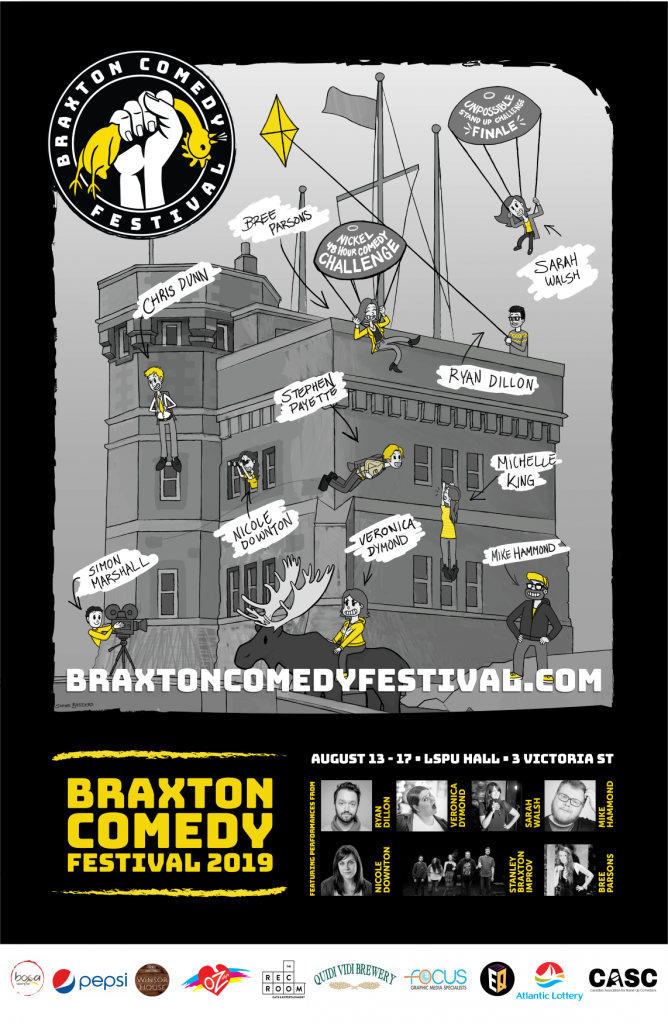 Live on the main stage at the LSPU Hall the festival closing gala features national comedian Ryan Dillon fresh off of his second Canadian Comedy Award nomination. Joining Ryan is Bree Parsons and Mike Hammond, as the gala kicks off their cross island tour across the province!
Ryan Dillon
Clever & charming with a self-deprecating wit, Ryan Dillon is an award winning stand-up comedian, actor, and writer who has quickly gained recognition from critics & peers as one of the funniest comics on the rise. After just a few months of performing stand up, Ryan was selected by industry professionals for the Tim Sim's Fresh Meat Showcase at the infamous Second City. His first one man show "23 Nothing to Say" was sold out with rave reviews in his home of Newfoundland. His follow up, "Collapse" earned him immense critical praise with a sold out run at The Toronto Fringe Festival, winning Patron's Pick and a nomination for a Canadian Comedy Award. He has since gone on to be a finalist for SiriusXM's Top Comic at JFL42, chosen for the prestigious Homegrown showcase at Just For Laughs, and earned a taping for Kevin Hart's Laugh out Loud Network. Make sure to check out his new album "Violently Nice," nominated for 'Best Album' at the Canadian Comedy Awards.
Bree Parsons
Bree Parsons is a comedian and producer based out of St. John's, Newfoundland. She was chosen as a semi-finalist for CBC's Next Up comedy competition, as well as a performer in the hit series, "Matturday Wright Live" hosted by Matt Wright. She has opened for Caleb Synan as part of the first show of his "Make America Canada Again" tour. Her voice is heard monthly on CBC radio for her segment "binge watch" and produces and hosts regularly at Boca Comedy & Tapas. Her storytelling style is rooted in her less than traditional Newfoundland upbringing. Bree takes you through the survival guide of everything from church to the unconventional success of a being hot mess.
Mike Hammond
Mike Hammond is a Newfoundland born Comedian and has been making crowds laugh all over Canada. He's a natural born story teller and has an energy and authenticity about him that captures the attention of any audience, and leaves them laughing is the aisles. He has performed at the Winnipeg Improv Festival, Yuk Yuk's, and is the current Artistic Director of Stanley Braxton Improv Co., and the Festival Director for the Braxton Comedy Festival.