A Christmas Fury Special
Event Navigation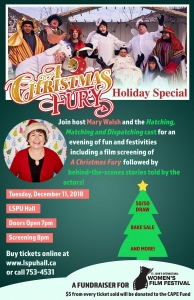 Tuesday, December 11th 8pm
Mary Walsh and her dysfunctional Hatching, Matching and Dispatching cast invite you to join them for A Christmas Fury at the LSPU Hall on Tuesday, December 11 – a fundraiser for the St. John's International Women's Film Festival. In addition, $5 from every ticket sold will be donated to the Cultural Artists Plan for Emergencies (CAPE) Fund, helping local artists.
Co-starring Mark McKinney, Susan Kent, Shaun Majumder, Jonny Harris, Sherry White, Joel Thomas Hynes, Adrianna Maggs, and Rick Boland, A Christmas Fury is an outrageously funny movie with unexpected heart.
Some of the cast will be featured at this holiday special to share stories from behind the scenes of making this film, so get your tickets now!
Event starts 7pm in the Cox & Palmer Second Space, film screening at 8pm followed by in conversation with the cast. Bring cash to purchase from the bake sale, 50/50 draws and other holiday treats!