Dedication
a Resource Centre for the Arts Theatre Company production
in partnership with The Arts and Culture Centres.
Supported by
The City of St. John's and The Honour 100 Grants Programme.
Written by Edward Riche
Dramaturgy by Charlie Tomlinson
In Development for 2017
The most recent of RCA Theatre's Workshop Presentation took place at the LSPU Hall, April 21-23 2016. This 2016 Workshop Presentation was to present a more advanced script on the main stage, incorporate sound, set pieces and costumes.  We also had a fantastic exhibit displayed in the Cox and Palmer Second Space curated by freelance exhibit developer and PhD Student, Emma Lang.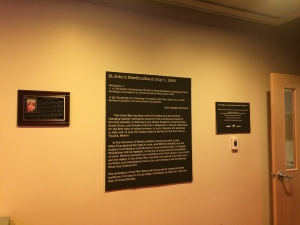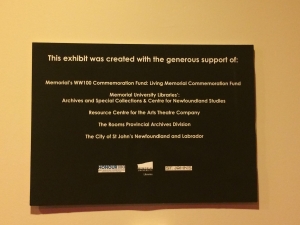 The 2016 Workshop Presentation featured Sara Tilley, David Ley* and Greg Gale*.
*David Ley and Greg Gale appeared courtesy of Canadian Actors' Equity.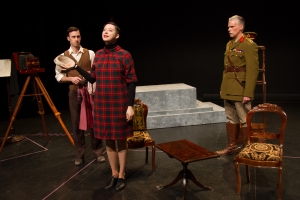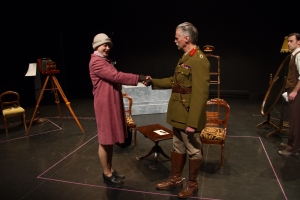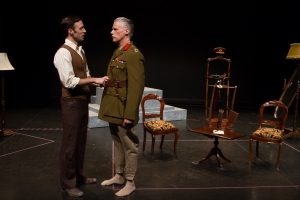 A preview of Dedication by Edward Riche was presented at Government House on Thursday, April 23rd 2015.
A big thank-you to Chief Justice Derek Greene and his wife who attended; and our fine hosts in absentia Lieutenant Governor Frank F. Fagan, his wife Patricia, and the staff at Government House.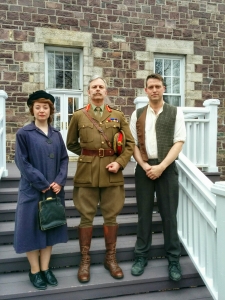 This workshop featured Alison Kelly, Jerry Etienne* & Steve Cochrane.
*Jerry Etienne appeared courtesy of Canadian Actors' Equity.
Another workshop reading featuring the same cast members took place April 24th 2015 in the Cox & Palmer Second Space. It was a great success with a packed house. A special thanks goes out to all of you who could make it.
Synopsis
On July 1, 1924 Field Marshall Douglas Haig, Commander of The British Expeditionary Force in World War I comes to St. John's to dedicate the National War Memorial.  "Dedication" imagines the Field Marshall's morning in St. John's preparing for the ceremony.
Haig's batman having taken ill a groom from the Governor's stables, Charles Edgecombe is assigned to help Haig dress for the occasion.  Edgecombe turns out to have been a prisoner of the Bolsheviks during the later stages of the war and may have "radicalized" while in their custody.
Once dressed Haig is obliged to submit to an interview by a young local journalist, Miss Drover, a suffragist and nurse to a brother horribly wounded, mentally, spiritually and physically in the war.
These three characters cannot but come to debate and disagree about the causes of the World War and its consequences, about colonialism and capitalism, about patriotism and duty, about the horrors of the past and the hopes for the future, about modernity itself.
The play does not revisit in great detail the tragedy of Beaumont Hamel, that story has been well served by existing plays, but looks at the larger causes and costs of the War, through the lens of international geopolitics and the very personal.
We hope to see you all at our next Significant Others Series workshop staging of Dedication April 21st-23rd, 2016! Then it's off to the main stage for Summer 2017, followed a provincial tour in partnership with the Arts and Culture Centres.