Women, Words & Music: Women Songwriters & Their Songs
Event Navigation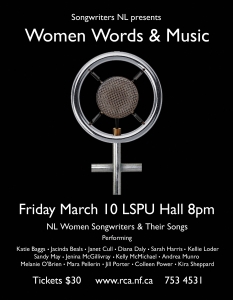 8pm.
Songwriters NL are presenting Women, Words & Music, a collective of fifteen women songwriters; each performing two songs from their own original works.
There is an impressive number of women songwriters here In the City of St. John's and across the Island and Labrador. So many women songwriters that Songwriters NL concert organizer Vicky Hynes; couldn't possibly accommodate them all in one evening's performance.
Showcasing their songs this March 10, are singer songwriters Andrea Munro, your Host; Katie Baggs, Jacinda Beals, Janet Cull, Diana Daly, Sarah Harris, Kellie Loder, Sandy May, Jenina McGillivray, Kelly McMichael, Melanie O'Brien, Mara Pellerin, Jill Porter, Colleen Power and Kira Sheppard.