The Mon Show
February 13

-

February 14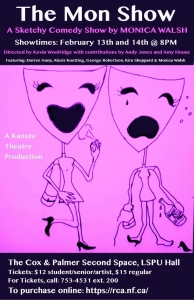 A sketch comedy show by Monica Walsh
February 13 & 14 @ 8:00pm
Do you like laughing? Seeing actors do funny, silly things? Do you like satirizing all the ridiculous things we deal with every day? Well, then-come see this sketchy comedy show by Monica Wash.
Directed by Kevin Woolridge, this show features actors Darren Ivany, Alexis Koetting, George Robertson, Kira Sheppard and Monica Walsh. Contributions by Andy Jones and Amy House.
Tickets – $15 regular, $12 student/senior/artist.