Stand-Up Challenge 2018: Bomb Shelter Open Mics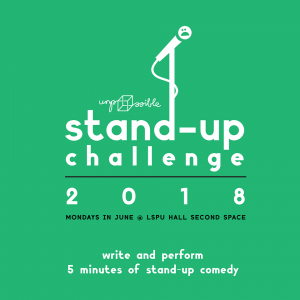 8pm. Every Monday in June in the Cox & Palmer Second Space.
$5 at the door.
Ever wanted to try stand-up? This is your chance.
The Stand-Up Challenge is the RPM Challenge of stand-up. It's a call for everyone — beginners and pros, norms and weirdos — to write and perform five minutes of original stand-up comedy in a month.
It's not a contest, it's open to anyone in the St. John's area, and it's free to participate.
Here's how to take part:
1. SIGN UP.
Sign up at this link: https://goo.gl/forms/Ov3fAOCZelLji7aH2
2. COME UP WITH 5 NEW MINUTES.
Write 5 minutes of new stand-up material. If you've never done stand-up before, try anything! If you're an experienced comic, challenge yourself! Usually do anecdotal comedy? Try one-liners! Usually blue? Try clean! How about character comedy, musical comedy or crowd work?
3. TEST YOUR 5 MINUTES AT ONE OF THREE OPEN MICS
The official Stand-Up Challenge open mic is called The Bomb Shelter and it happens every Monday in June at the LSPU Hall Second Space. Email swervy@unpossible.co by the Friday before each open mic to book your spot. Preference will be given to people who haven't had a spot at the open mics before.
4. GET A CHANCE TO PERFORM AT THE FINALE SHOW ON JUNE 25.
Performers who've tested their mettle at a Bomb Shelter mic will have the chance to claim a spot at the finale show at the LSPU Hall on the last Monday of the month, June 25!
**The June 18th Bomb Shelter is a clean, all-ages show.**
***All Stand-Up Challenge events are safe spaces. Rape, racism, and discrimination jokes are not welcome.***