St. John's Shorts: A Festival of Short Plays – transVersing/Besties/Stuck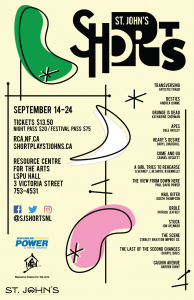 7pm
transVersing
9:30pm
Besties by Andrea Dunne
Stuck by Job Aylward
Artistic Fraud of Newfoundland and For the Love of Learning proudly present transVersing. The voices of some of our city's most vibrant  trans youth take centre stage in this incredible evening where fiddle meets Shakespeare meets slam poetry meets soapbox rant. You do not want to miss what promises to be a stellar night that will challenge preconceptions about the trans experience and burst hearts wide open.
Produced by Artistic Fraud and For The Love of Learning
Featuring: Violet Drake, Fionn Shea, Taylor Stocks, Dane Woodland
Dramaturged and Directed by Berni Stapleton
Assistant Director & Dramaturgical Support by Sharon King-Campbell
Besties Amy and Ruth are giving their farewell performance as a Burlesque duo before Ruth goes away to grad school in "Onterrible" and Amy stays put and "becomes a teacher or something." It's a night where it feels like anything is possible – whether that be teasing your relationship to the next level or letting loose the inner sex goddess you always knew (hoped) you could be. One way or another, by the end of the after-party everything is coming to a climax.
Produced by And/Or Productions
Featuring Susan Kelsey, Elizabeth Hicks, Darren Ivany, Brandon Hillier
Written and Directed by Andrea Dunne
Stuck is a short, minimalist play about two thirty-something's looking for work in a large, unnamed city. While job-hunting in a downtown high-rise the power goes out, leaving them stranded in an elevator. As the hours pass and their situation grows dire, they are forced to confront their demons.
Written, Produced and Directed by Jon Aylward
Featuring David Maher, Nichole Woodman