St. John's Shorts: A Festival of Short Plays – transVersing/The View From Here/Cashin Avenue/Brule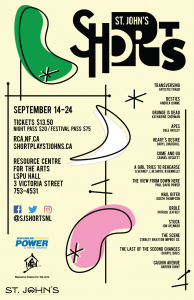 2pm
transVersing
7pm
The View From Down Here by Paul David Power
Cashin Avenue by Darren Ivany
9:30pm
Brulé by Patrick Jeffrey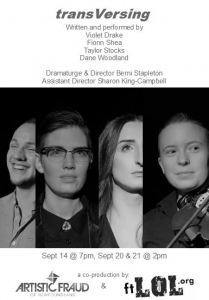 transVersing produced by Artistic Fraud and For the Love of Learning

Artistic Fraud of Newfoundland and For the Love of Learning proudly present transVersing. The voices of some of our city's most vibrant trans youth take centre stage in this incredible evening where fiddle meets Shakespeare meets slam poetry meets soapbox rant. You do not want to miss what promises to be a stellar night that will challenge preconceptions about the trans experience and burst hearts wide open.
Featuring:Violet Drake,  Fionn Shea, Taylor Stocks, Dane Woodland
Dramaturged and Directed by Berni Stapleton
Assistant Director & Dramaturgical Support by Sharon King-Campbell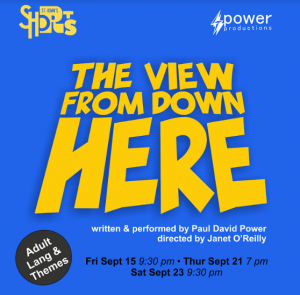 The View From Down Here by Paul David Power
In this original stand-up style piece, Newfoundland artist Paul David Power shares his comical and sometimes poignant experiences growing up and living with a disability in Newfoundland.
Produced by Power Productions
Written and Performed by Paul David Power
Directed by Janet O'Reilly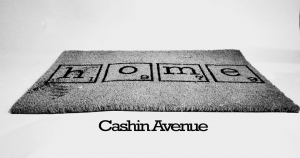 Cashin Avenue by Darren Ivany
"Cashin Avenue" is the story of a last chance conversation between two underclass lovers, both of whom are desperate for something they've never had: Home. When what 'home' means to each of them threatens to deepen a divide that's been growing for years, one of the lovers goes too far in his hunt for a happily ever after. It might mean the end, but it could be a dream come true.
With banter and black humour, "Cashin Avenue" explores the souring of high school sweethearts and how years of poverty and procrastination can push people to their limits. Sardonic, but not without sentiment, "Cashin Avenue" confronts the audience with a relationship near the end of its rope.
Produced by Salt Teeth Theatre Company
Written by Darren Ivany
Featuring Kim Drake, Darren Ivany
Directed by Reg Hoskins
June. 1629. A small group of travellers takes shelter around a campfire on Lake Huron. With the arrival of a mysterious stranger, their darkest secrets are revealed. A play about treason, trust, and the things that nag at night.
Produced by Caveman Lovechild
Written Patrick Jeffrey
Featuring Steve Maloney, Stu Simpson, Ray Critch and Cole Williams.
Directed by Russell Cochrane