St. John's Shorts: A Festival of Short Plays – The Scene/The Last of the Second Chances/Come and Go/A Girl Tries to Rehearse/Heart's Desire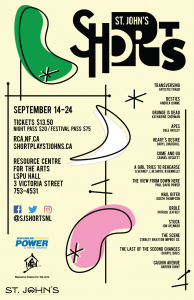 7pm
The Scene by Stanley Braxton
The Last of the Second Chances by Darryl Davis
9:30pm
Come and Go by Samuel Beckett
A Girl Tries to Rehearse by N. Hennelly and L.M. Smith
Heart's Desire by Caryl Churchill
The Scene by Stanley Braxton
Stanley Braxton Improv will act as performers, writers, and directors in 'The Scene'. Given a prompt from the audience Stanley Braxton will create a world right there on the spot with different characters and stories, all while directing each other in the moment.
Produced by Stanley Braxton
Featuring Chris Dunn, Mike Hammond, Stephen Payette, Michelle King, Tim Matson
Directed by Mike Hammond, Stephen Payette, Chris Dunn, Michelle King, Tim Matson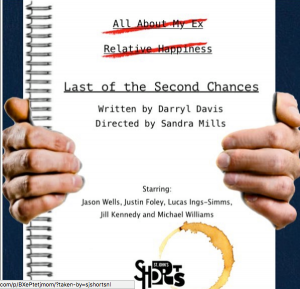 The Last of the Second Chances by Darryl Davis
Daniel feels lost; he is on medical leave, dealing with a slew of mental health issues, living with his sexually progressive mother, and is unable to get over his ex-boyfriend, Michael. Going back and forth in time from present day to the past, Last of the Second Chances is about trying to let go.
Written and Produced by Darryl Davis
Featuring Jason Wells, Justin Foley, Jill Kennedy, Lucas Ings-Simms, Michael Williams
Directed by Sandra Mills
Come and Go, a dramaticule by Samuel Beckett of one hundred and twenty one words.
Produced by Open Theatre Company
Come and Go featuring Melanie Fleming, Rose Walters, Bridget Russell
Directed by Natalia Hennelly and Olivia Heaney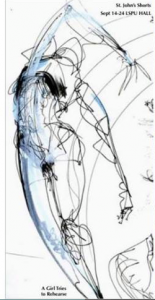 A Girl Tries to Rehearse by N. Hennelly and L.M. Smith
What does it take to find some time to rehearse while working full time.
Produced by Open Theatre Company
Written by Olivia Heaney, Laura-Marie Smith & Natalia Hennelly
Featuring Laura-Marie Smith
Directed by Natalia Hennelly and Olivia Heaney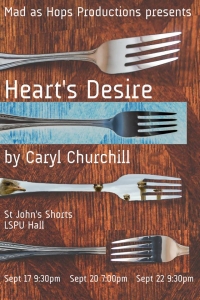 Heart's Desire by Caryl Churchill
A daughter is anxiously awaited to return home by her parents … will she arrive ? Family secrets are revealed as the wait ensues…
Produced by Mad As Hops Productions
Written by Caryl Churchill
Directed by Trevor Menchions & John Bowden