So You Think You Got Talent?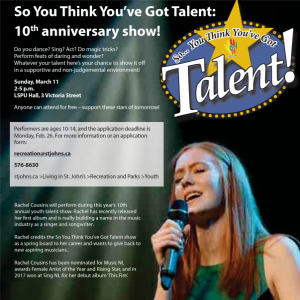 2pm
Free Event
So You Think You've Got Talent?
10th Anniversary Show with special guest performer – Rachel Cousins!
The annual youth talent show is hosted by the City of St. John's, Recreation Division for youth ages 10 to 14 years.  This is an opportunity for individuals or groups to display their artistic talents (i.e., sing, dance, act, magic, band, martial arts, poetry, etc.) in a supportive / non-judgmental environment.
Date:  Sunday, March 11, 2018
Time:  2 to 5 PM
Location:  LSPU Hall, 3 Victoria Street
Cost: FREE for performers and audience members!
Application Deadline: February 26, 2018