SJIWFF28 presents: Exxonmobil Opening Night Gala: Suck It Up
Event Navigation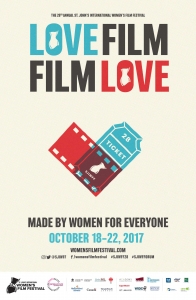 7pm
This screening will be shown at Scotiabank Theatre (Avalon Mall-48 Kenmount Road) not the LSPU Hall.
Suck It Up
Directed by Jordan Canning
Decidedly not a Thelma and Louise story, Suck It Up wisely pays tribute to the origination story about two women and a car but strikes out for fresh highways. Jordan Canning's second feature premiered at Slamdance this year to affectionate reviews, and it's easy to understand why. The film takes on some big topics, such as grief and betrayal, but it does so with a spunky combination of wit and attitude. The two female leads really own the wheel here. Ronnie is the hard-scrabbling sister of prematurely deceased Garrett. When the film opens, we are introduced to her state of mind, drowning itself in booze and self-pity. Her best friend Faye is called for an intervention, but she is also Garrett's former girlfriend and therefore ambivalent about getting involved. The doctor didn't really order a road trip but Garrett's cool blue Mustang is screaming for possession, and so it is that the film becomes a journey through a few psychological landscapes. Canning is so admirably understated as a director, almost deceptively standing back to let her characters hog the screen. But rest assured that only a steady directorial hand and a keen sense of cinematic understatement could make this trip such a pleasure to watch. Highly entertaining and full of appealing diversions, the film reminds us that, yes, life is a highway. The festival is so proud to be showcasing Suck It Up as our opening feature, stunning evidence of a local filmmaker's sheer homegrown talent.