Rose Cousins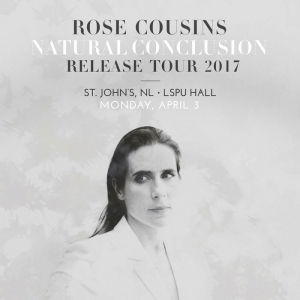 7pm
With a great new record, Natural Conclusion, Juno Award Winner (and multi-ECMA and CFMA winner) Rose Cousins is returning to St. John's to perform as part of the Natural Conclusion tour. She describes the new album as "the most honest and vulnerable thing I've created to date".
"Ultimately, a life consists of many relationships, some chosen and some assigned, each playing different roles on a subjective, expansive spectrum of success and failure. We choose, we are chosen, we are left, we leave, we stay anyway, we grieve, judge and empathize, relinquish, atone alone, keep and let go. Each relationship will come to its Natural Conclusion."
We hope you can make it to these very special intimate shows at the LSPU Hall. There is no better room to experience Rose Cousin's music and spend time listening to her dig deeper into the stories that have brought her life and career to where it is today.