RCA Theatre Company Presents Squawk by Megan Gail Coles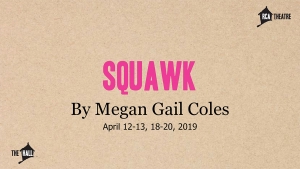 Part of RCA Theatre Company's 2018-19 Hall Pass.
Written by Megan Gail Coles
April 12th & 18th at 8pm. April 13th & 20th at 2pm.
Annie is not your average teen. She's feisty. She's sharp. She's aboriginal. And, she's aging out of foster care on her birthday. Where she will go? Will she return to northern Canada and live off the land with her traditional grandmother? Or remain in a southern city where aboriginal girls like her go missing? Poof. Disappeared. Vanished. When the pressure seems too much, Annie uses the video game world to level up in the game and in her life. Lost somewhere between her real life and the video game world she clings to, Annie searches for a new place to be where her identity won't be questioned and her safety won't be at risk. Can Annie overcome the obstacles to "win" the day for herself, her mother, her grandmother, and the millions of women like them?