RCA Presents Fake Nerd Girl
February 22, 2018

-

February 28, 2018
Event Navigation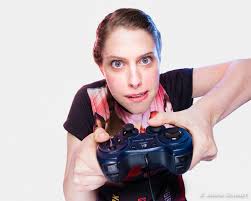 Part of RCA's 2017-18 Hall Pass, on sale soon!
Fake Nerd Girl is a one woman show about a nerd girl who becomes a vigilante to fight the sexist
trolls of nerd-dom. Fake Nerd Girl is just as epic, kick ass, awkward, ridiculous, and obsessive as
nerd culture. Olive doesn't just play the games in Fake Nerd Girl she becomes the game: she battles the dragon in D&D, blows up the aliens in Alien Destruction 3, and enters the internet itself to lay waste to trolls. In Fake Nerd Girl, we hear the battle drums on the plains, the alien guts explode and the terrifying voice of the ultimate internet overlord.
Nerds are the outcasts of society, obsessing about the minutia of their passions. Up until the last decade, fantasy nerds were predominantly male; characterized as introverted guys holed up in their Mom's basement reading comic books. Now, nerd culture is becoming more mainstream and women are starting to join in the fun. Unfortunately, some nerdy guys don't want to share their toys. They mock lady gamers and push them away. When women speak up for themselves they are bullied into silence: public shaming and 'doxxing' are the weapons of choice.
Fake Nerd Girl is a retaliation against that garbage. It is a love letter to nerd culture and battle cry against trolls. The show is a comedy (You can get through to even the most skeptical audience members if they are laughing.) We are influenced, stylistically, with the purest form of comedy: clown. The show borderlines on the ridiculous. The clown's job is to be loved; the more the audience loves Fake Nerd Girl's protagonist the more controversial she can be.