RCA in partnership with Escape Quest Presents Ghosts of the LSPU Hall
August 22, 2017

-

August 26, 2017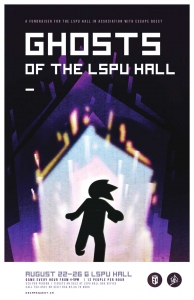 4:00pm – 10:00pm. Games starting on the hour. 12 people per hour.
Back by popular demand!
Enter the LSPU Hall, one of St. John's most storied and, according to some, most haunted structures, for an adventure like no other. Explore abandoned dressing rooms, narrow back stages, and the sublime theatre itself as you uncover the dark secrets of this historic building. But beware! Some secrets are better left hidden.
Escape rooms are a new form of entertainment that has caught on all over the world! Groups are sent into one of several exciting, thematic rooms filled with obstacles, locks, and clues. Working together, they must solve each problem in the hopes of finding a way out before the time is up.
Each success gives players a rush of excitement, but as the game goes on, the challenges get tougher. Only by working together and finding every clue can players hope to escape!
Tickets must be paid for at time of booking. If purchasing by phone, you can use Visa or Mastercard. If you come to the box office in person you can use Visa, Mastercard, cash or debit. Escape Quest passes and gift cards are not accepted. There are no refunds.
Watch CBC's story from last year's Ghosts of the LSPU Hall!