Playwrights' Cabaret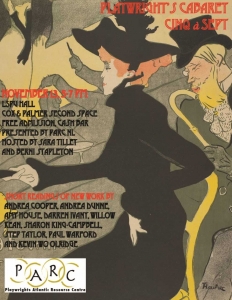 November 13, 5 to 7 pm
Cox & Palmer Second Space
PARC NL presents a Playwright's Cabaret!
Hosted by PARC member Sara Tilley and PARC member Berni Stapleton, with readings from new plays by local playwrights.
Free with a cash bar. Playwrights Atlantic Resource Centre Artistic Director, Pamela Halstead, will be in attendance to meet playwrights and sign up/renew members to PARC.