Martin Simpson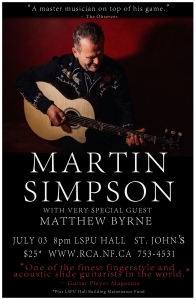 Tuesday, July 3rd, 8pm
There is no doubt that after 45 years as a professional musician Martin Simpson is, right now, better than ever. Widely acknowledged as one of the finest acoustic and slide guitar players in the world, his interpretations of traditional songs are masterpieces of storytelling. His solo shows are intense, eclectic, spellbinding and deeply moving.
There is no-one who has more successfully combined the diverse elements of British, Afro-American and old-timey music than Simpson. His career includes collaborations on stage and record with Richard Thompson, June Tabor, Kelly Joe Phelps, Jackson Browne, Danú, Martin Carthy, Cara Dillon, Steve Miller, Dick Gaughan, and many more.
Martin has been nominated an astounding 27 times in the fifteen years of the BBC Radio 2 Folk Awards – more than any other performer – with 9 consecutive years as nominee for Musician of The Year, which he has won twice.
Whether playing American old-time music, blues, a Dylan song or his own material, Martin Simpson is unpredictable, individual and a guitarist of immense subtlety.