Live Magazine! Issue #5 for Youngsters! Curated by Sarah Smellie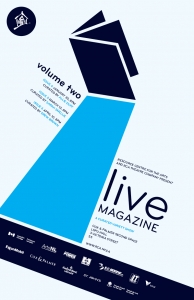 March 13th, 7pm.
Cox & Palmer Second Space, $5 tickets available at the door.
Live Magazine, Multi-Curated, Multi-Discipline, tons of fun!
Issue #5 Curated by Sarah Smellie!
Live Magazine is back and this time IT'S FOR KIDS!* Curated by Sarah Smellie, this edition features master puppeteer Jake Thompson and his purple pal Gary; music by Nerve Damage, one of last year's Girls Rock NL bands; and hilarious kid-friendly improv comedy by Shorts, featuring members of Holy Heart's award-winning improv team!
The show starts at 7pm! There will be snacks! It's only $5 to get in!
*Appropriate for kids 6 and up. Approximately. Or just wing it and see what happens, we won't judge.
---
Sarah Smellie
Sarah Smellie believes the children are our future. Especially these days. I mean, honest to God, what is even happening? She's a freelance writer and the founder of the St. John's Math Circles. She's also on Unpossible NL's board of directors.
---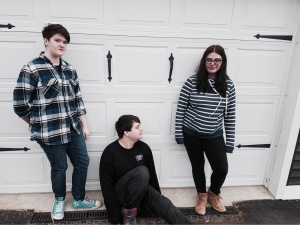 Nerve Damage
Our names are Bradley Dyke, D'arcy Butler, and Haley Bonell, and we are Nerve Damage. We are a group of 16 year olds from CBS who play alternative and music.  We play together because we are passionate about music.
---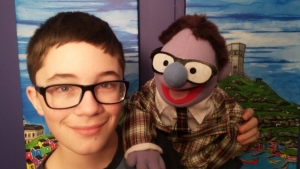 Jake Thompson
Jake Thompson is a 12 year old puppeteer from St. John's. Jake's love of puppets came at the age of 2 when he first watched an episode of The Muppet Show. Ever since then Jake has not looked back. Jake started a YouTube show called NL NOW where host puppet Gary would interview local celebs. Within 5 months he had 3 different offers to put NL NOW on TV.  Today NL NOW is on Rogers TV in St. John's with new episodes airing every Sunday at 6:30pm. Jake has hosted such guests as Allan Doyle, The Once, Fortunate Ones, Alan Hawco and more. Jake is determined to turn his passion into a career working with The Muppets or on Sesame Street.
---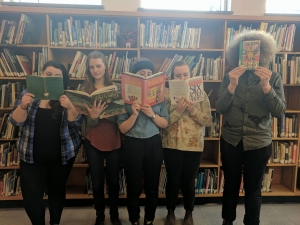 Shorts
Have you ever had wildlife living in your hair? Because Desmond Stephens sure can vouch that it's a good time! He's a big fan of Improv, Theatre, and that independent kid's film "Bike Squad". You know the one I'm talking about. A proud owner of not one, but one eerily realistic space jam poster. He's a grade 11 student at Holy Heart, he's been a player in the Canadian Improv games for 3 years and has gone to nationals in Ottawa and also Improv boot camp right here!
Becca Seward is a grade 12 student at Holy Heart. She has been doing improv for 6 years. She has been both a player and a coach with the Canadian Improv Games throughout these 6 years! She has received training at the Canadian Improv Games National Festival in Ottawa and Improv University just outside of Montreal. She loves improv so much and hopes you do too!
If you love improv, music, cake, and being frightened by inanimate objects, you might just get along great with Abrielle Winsor! Abrielle (also know as Abby) has been doing improv for four years and has had the opportunity to compete on a national level in Ottawa. Nothing gets her more energized than a good musical and a bucket of cookie dough, but improv and cool people come pretty close. Abby's super excited to be your ref tonight and hopes u have a super great time!!!
Cait Chapman is a level 3 at Holy Heart of Mary High School. She has taken part in the Canadian Improv Games Newfoundland Tournament as a player and a coach for the past 6 years. She sings in her school's chamber choir and has most recently performed in A Christmas Carol (St. John's Players). She hopes you enjoy show!
Elizabeth Glenn has been involved with the Canadian Improv Games for six whole years as a player and coach but she's pretty much been winging it her whole life. Elizabeth has competed at both the provincial level in Newfoundland as well at the national festival and tournament with the CIG and is a recent recipient of the Mike Fardy "MVP" award from the NL region. Her love for improv is forever growing and she hopes you have as much fun as she will tonight!