Live Magazine! Volume 4, Issue # 10 Curated by Renee Sharpe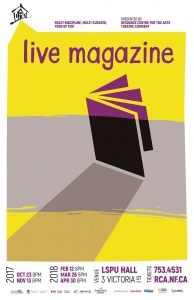 8pm.
Cox & Palmer Second Space.
Tickets $10 at the Door.
Live Magazine is back for another issue! Our curator for Volume 4, Issue #10 will be Renee Sharpe! The local DIY talk show The Renee Sharpe Show will be streaming live from our Cox & Palmer Second Space on Monday, March 26th at 8pm. Be a part of the live studio audience or tune in live through their Facebook page, The Renee Sharpe Show!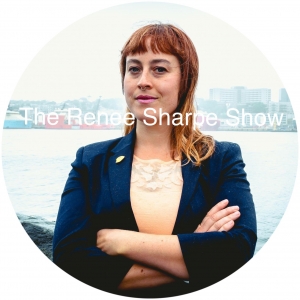 Renee Sharpe is a DIY talk show host, punker, creator of BAND OFF NL, host of Richard Simmons dance parties, successful mayoral candidate, welder, Wen-Do women's self defence instructor, community builder and cheerleader. Renee loves love and she wants to celebrate you.
This edition of The Renee Sharpe Show will feature a musical performance by Thelma and Louise, stand-up comedy from Cara Winsor Hehir (Swervy Garland), a performance by Deborah Jackman, and cooking from Amy Anthony.
There will be free snacks and happy hour drink prices!
Multi-Disciplinary, Multi-Curated, Tons of Fun!
---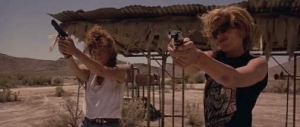 Thelma and Louise are a hard-rocking band that pay tribute to rad women making good music throughout the ages. Their tunes range is style and era from Peaches to the B52s and Hole and soon enough you'll be hearing some band new jams from this crowd. If you like feminism and having a good time you will dig this band.
---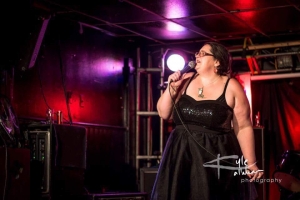 Cara Winsor Hehir is an activist, a radical feminist, political about the female body, an artist, and loud. She has worked as a textile artist creating quilts and soft sculpture promoting body positivity. She is a nude model for local artists and classes. She is a stand up and musical comedian performing as Swervy Garland. Swervy Garland is a salty, opinionated, feminightmare who performs weekly on a stage near you. As Swervy, Cara is a regular in the St. John's comedy scene, and has a sucessful performance in the Big Smoke, Ontario under her belt. She has three independently released albums on the internet and a fourth coming soon. Keep an ear out for Swervy Soup in 2018.
---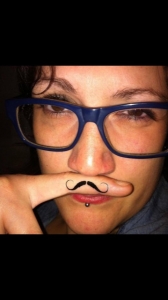 Amy Anthony is a local Chef with over 15 years experience. From the ever missed B &B snack bar, to Atlantica, Gracie Joe's, The Sprout, Mallard Cottage, Film Catering and, most recently, The Ship pub, Amy has been cooking up sick twist on local and international comforts to cure what ails you …or push you into a food coma. Super pumped to be invited on Live magazine with Renee!
---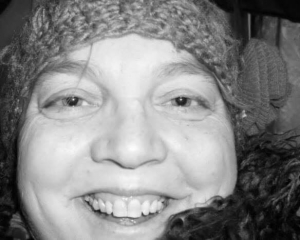 Deborah Jackman is a Multi-disciplinary Feminist Artist living in St. John's, NL. Her works Range from visual art and has been displayed in local galleries, coffee shops. She received a national honourable mention for her montage titled "I feel Great" (Canadian Mental Health Association).
Films include Crackie, (Sherry White), Heartless Disappearance into Labrador Seas, (Lois Brown).
Television: George Street TV (comedy)
Plays: Her first solo play was selected for the Women's Work Festival, 2012. Town of Tinybuckle Glen, a group effort with Dawn Trainor, Phil Winters, Marcel Levandier. Kent Noseworthy and Glen rockwood. 1990.
Cross out the Rain: co-written with Dawn Trainor, 1991.
Festival of New Dance: A number of performances solo and groups.
Clown Through Mask: by Sara Tilley.
Deborah is an Improvisational Vocalist and have worked with numerous performers from NL and abroad. At present she is dividing her time between three artistic projects.