Land of the Lakes featuring special guests Banana Vacuum
Saturday December 8th 2pm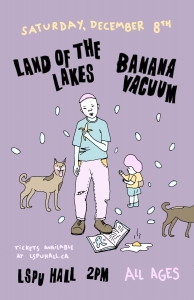 Adult, child, and family pricing available.
Indie rock group Land of the Lakes play an all ages show at the LSPU Hall with St. John's newest (and youngest!) punk sensation, Banana Vacuum.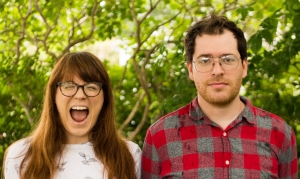 With a recently released album of rock tunes for the younger set, Pink Rabbit, five-time MusicNL-nominated Land of the Lakes are ready to rock some tunes for the young and young at heart at the LSPU Hall. Get ready to dance to the wintry favourite Zamboni, an ode to strange dreams, Pink Rabbit, learn to spell with ABCDEFG, and let out your snacking frustrations while headbanging to Cookies Are Okay Sometimes. Fronted by Matthew Thomson and Danielle Hamel, Land of the Lakes play indie pop with fuzzed out guitars and dreamy melodies with the help of Adam Hefferman, Paddy Byrne, Dave Noseworthy, and Hilary Thomson. Their stop motion music video for Zamboni was screened at the Nickel Independent Film Festival and St. John's International Women's Film Festival this year, and was nominated for Music Video of the Year by MusicNL. They've been longlisted for The Overcast's Borealis Music Prize and in 2015 was named a Top Ten Standout across Canada in the CBC Searchlight Competition. They've shared the stage with some of Canada's hottest acts including Repartee, Land of Talk, and By Divine Right. Find out more at landofthelakes.ca.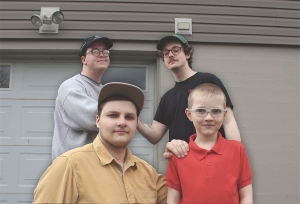 Banana Vacuum is a hardcore punk band from St. John's, NL, Canada. Started by brothers, Jacob Cherwick (age 19) & Mark Cherwick (age 8)  for the 2018 RPM Challenge). They write songs about food, siblings, minions & various other frustrations of 8-year-old life. Banana Vacuum independently released their debut album "Never Mind the Minions, Here's Banana Vacuum" in March 2018, garnering over 3,500 plays on Bandcamp in it's first week. Shortly thereafter, the Cherwick brothers enlisted bassist Liam Ryan & drummer Damon Dooley to round out the band as a live act, wowing audiences with their surreal, high energy performances. Banana Vacuum has been raved about by both provincial & national outlets of the CBC, NPR Music, The Telegram & The Overcast, among others. Listen at Bandcamp.