Kate Crackerberry
March 25, 2017

-

March 26, 2017
Event Navigation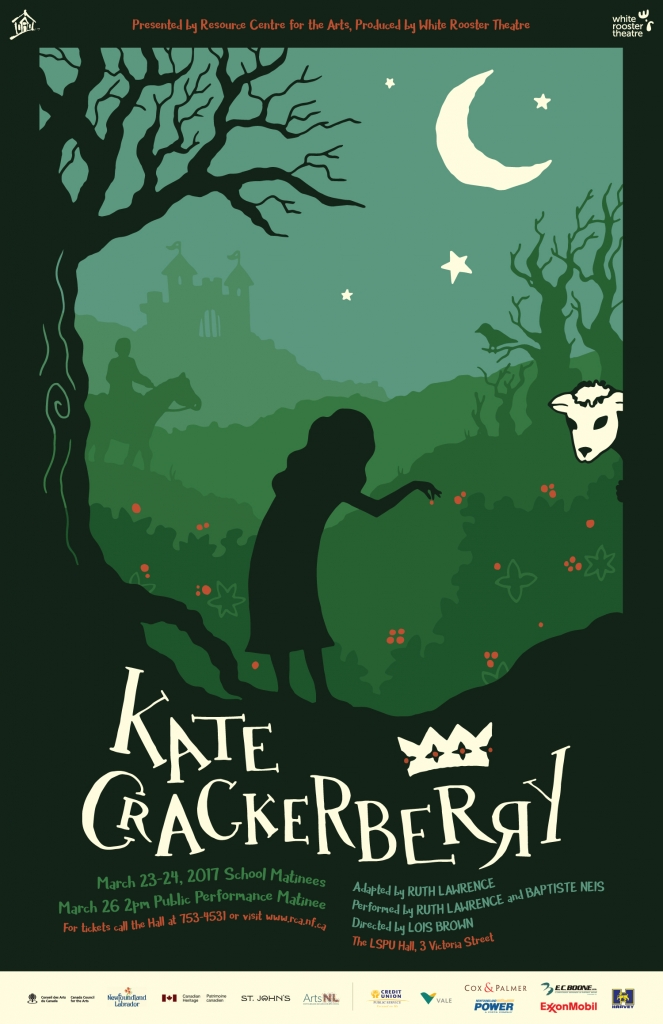 2pm.
Length of show: 60 min.
Sunday, March 26th performance is now sold out! New performance added for Saturday, March 25th at 2pm!
A family pass is available – with a maximum of four and a minimum of 1 child per family pass.
Kate Crackerberry is based on a wonderful folk-tale from the Orkney Islands in Scotland and told in the style of the jack tales in Newfoundland and Labrador. It is about the love between two step-sisters, a sheep's head, and a prince suffering under a fairy spell. When Anne is placed under an evil enchantment, her good, kind and clever sister Kate dedicates herself to find a cure. This leads the girls into the woods where they encounter a royal family with an ongoing problem. Kate uses her wits and courage to find a solution for both her sister and the prince, leading to a happy ending for everyone in the kingdom. Working with the compact team in a devised process, 4 multi-talented artists use image, puppet animation, movement, and music in a collaborative artistic process to create the stories, puppets, props and instruments for this production.
Adapted by Ruth Lawrence
Directed by Lois Brown
Music by Diana Daly
Puppets designed by Baptiste Neis
Produced by White Rooster Theatre
Presented by Resource Centre for the Arts
School touring dates: March 20-24th. This unique show is now available for exclusive booking at elementary and primary schools in Eastern NL, March 20-24, 2017. Don't miss out on the chance to introduce students to this magical show performed by award-winning local theatre artists. For booking inquiries in schools, e-mail whiteroostertheatre@rocketmail.com.
The 2016 Rhonda Payne Theatre Award will be presented in conjunction with the performance of Kate Crackerberry on Sunday, March 26, 2017. The presentation of the award will take place after the show.
The award honours the memory of actor, writer and director Rhonda Payne. It assists women theatre artists in Newfoundland and Labrador who are struggling to achieve their goals as actors or writers and comes with a $500 cash award. For information contact ArtsNL at 726-2212 or visit www.artsnl.ca