Impresario
May 18, 2017

-

May 20, 2017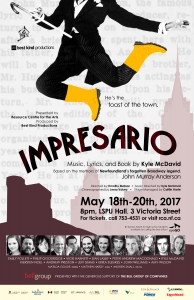 8pm, with a 2pm matinee on Saturday, May 20th.
Based on, and including text from, the memoir "Out Without My Rubbers" by John Murray Anderson & Hugh Abercrombie Anderson. An original biomusical based on the life and memoirs of St John's born John Murray Anderson. From the streets of late 1800's Newfoundland to the uppermost echelon of Broadway notoriety as a revue producer, Anderson's journey is one of love, loss and overcoming adversity.
Music, lyrics and book by Kyle McDavid
Directed by Timonthy Matson
Music Directed by Kyle McDavid
Choreographed by Jessa Vokey
Stage Managed by Caitlin Harte
Produced by Best Kind Productions
Presented by Resource Centre for the Arts
Cast:
Emily Follett • Philip Goodridge • Vicki Harnett • Dan Lasby • Peter Andrew MacDonald • Kyle McDavid • Kiersten Noel • Andrew Preston • Jeff Simms • Erika Squires • John Williams • Amy Wilson
Matilda Goldie, fiddle • Matthew Hardy, bass • Andrew Small, drums
eyeGO tickets for high school students are available by phone or at the Hall Box Office.