Identify: Sealskin Textile Workshop with Barry Buckle
Event Navigation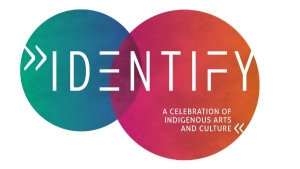 (Part of Identify: A Celebration of Indigenous Art & Culture. Identify is a two week, multi-venue festival happening April 8-22. Please visit Eastern Edge Gallery's website for a full schedule.)
Sealskin Textile Workshop
Cox & Palmer Second Space
LSPU Hall, 3 Victoria Street, St. John's
Monday, April 16th @ 5-8 PM
Registration Fee: $75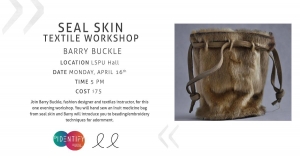 *Registration fees are waived for individuals who self-identify as Indigenous
Register here: https://goo.gl/forms/YidPvmuGty3VO6ge2
In this workshop all participants will learn how to cut seal in a proper manner with a sensitivity to to proper fur grain. The participants will then learn proper traditional hand stitching methods using a simulated waxed sinew to construct the base of the bag. Once the bag is complete thin strips of fur will be cut and shaved to create the draw strings for the finished medicine bag. The finished measurement of the bag will be 5″x 7″.
Barry Buckle is an Irish\NunatuKavik instructor for the College of the North Atlantic's, Textiles: Craft and Apparel Design program and a seasoned multi-disciplinary fashion professional. He is an advocate for the sustainable use of seal skin, frequently teaching the skills needed to work in seal skin and incorporating it within his own fashion designs.
---
Identify: A Celebration of Indigenous Art & Culture aims to create space for Indigenous voices and expression, bringing together Indigenous arts and culture professionals from the theatre, film, literature, visual, culinary and textile art communities of Newfoundland and Labrador while giving time and space to reinforce their history and current experience. Identify will share and showcase the traditional and contemporary artistic and cultural practices of the Mi'kmaq people of Newfoundland and Labrador as well as the Inuit, the Innu, the Southern Inuit of Nunatukavut and the Beothuk. The project provides a platform for Indigenous-led conversations on self-identity, self-rediscovery and celebration of Indigenous culture.