Identify: Movement Workshop with Brian Solomon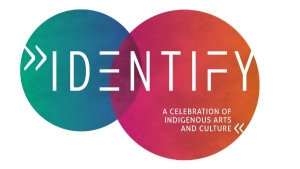 (Part of Identify: A Celebration of Indigenous Art & Culture. Identify is a two week, multi-venue festival happening April 8-22. Please visit Eastern Edge Gallery's website for a full schedule.)
Movement Workshop 1
LSPU Hall, 3 Victoria Street, St. John's
Wednesday, April 18th @ 1-4 PM
Movement Workshop 2
LSPU Hall, 3 Victoria Street, St. John's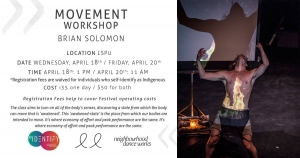 Friday, April 20th @ 11 AM – 2 PM
Registration Fee: $35 per class, or $50 for both.
Registration fee is waived for individuals who self-identify as Indigenous. Fees help to cover Festival operating costs.
Read more about the event and how to register here.
---
Identify: A Celebration of Indigenous Art & Culture aims to create space for Indigenous voices and expression, bringing together Indigenous arts and culture professionals from the theatre, film, literature, visual, culinary and textile art communities of Newfoundland and Labrador while giving time and space to reinforce their history and current experience. Identify will share and showcase the traditional and contemporary artistic and cultural practices of the Mi'kmaq people of Newfoundland and Labrador as well as the Inuit, the Innu, the Southern Inuit of Nunatukavut and the Beothuk. The project provides a platform for Indigenous-led conversations on self-identity, self-rediscovery and celebration of Indigenous culture.