Hurry Hard
Event Navigation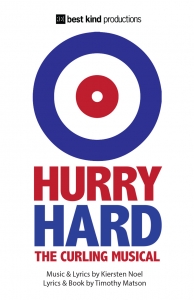 8 pm
For one night only, Best Kind Productions presents HURRY HARD – THE CURLING MUSICAL by Kiersten Noel and Timothy Matson.
At a high-stakes curling tournament, with mixed-gender teams of reshuffled teammates squaring off against each other, a host of curlers and fans take to the ice. Cassie and teammate Stephanie play for opposing teams for the weekend, as do curling brothers and teammates Max and Dan. Katie finds herself pulled up from juniors to play in the big leagues for the first time, and catches the eye of Wyatt, who spends his days making poutine at the arena snackbar. Mixed doubles team and married couple Paul and Ella and the mysterious but legendary curler Heck take up their sliders and brooms to compete for the trophy. Cheered on in the stands by dedicated trio Shirley, Ronnie, and Glynis, the stage is set for a great week of curling.
When old flames reignite, Stephanie's two kids make a surprise visit, and a curling newbie journalist arrives, the stones really start to curl.
And like in a real curling game, the winner isn't decided until the final stone lands – and the audience chooses the champion.
With a cast of fantastic local performers, all original songs including "One Rock at a Time", "Poutine For My Queen", "Hurry Hard", and more, this development workshop production is for musical theatre fans and sports fans alike.