Hot Docs Showcase: Tongue Cutters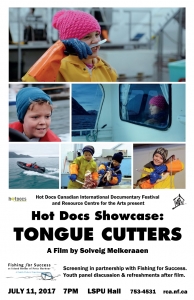 7pm.
Hot Docs Canadian International Documentary Festival and Resource Centre for the Arts present: Hot Docs Showcase: Tongue Cutters, a film by Solveig Melkeraaen.
Screening in partnership with Fishing for Success. Join us for a youth panel discussion & refreshments after the film.
About the film:
Cod tongue is a delicacy in Norway, and the job of cutting the cod's tongue is traditionally reserved for children. In this charming and whimsical coming of age story, nine-year-old Ylva dreams of following in her family's footsteps and earning money by working a season in the fisheries of northern Norway. Leaving her big city Oslo life behind, she arrives in a small fishing village and meets 10-year-old Tobias, a highly skilled and ambitious tongue cutter who takes her under his wing and shows her the art. With slickers on and knives sharpened, the joyful duo dive into their work. Over time, they discover they have much in common, and as Tobias' big dreams inspire Ylva, their bond grows. A beautiful friendship is formed while knee-deep in fish heads.
About the youth panel:
Cod tongue cutting was once an activity that was reserved for youngsters even here in Newfoundland & Labrador! Join in the discussion with youth leaders and Wish 150 artists to explore the value of returning to this tradition. Some of the youth leaders who have stepped forward to speak on the panel include:
Donovan Taplin, Member of the Prime Minister's Youth Council
Patrick Hickey, Young Humanitarian of the Year
Mackenzie Dove, Miss Newfoundland & Labrador
Shawn Dawson, forager & owner of Barking Kettle
Amber-Lynn Thorne, Wish 150 artist & skipper's daughter
Holly Tait, Wish 150 artist & graphic designer
Maryn Work, Wish 150 artist & passionate outdoorswoman
Megan Meadus, Enactus member & owner of Authenticity Clothing
Jamie Lewis, Wish 150 artist & graphic designer