Genesis Centre – Demo Days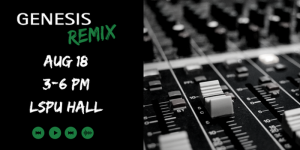 3pm-6pm. Free.
Register here by midnight, August 16th.
In an ever-changing world, the lines between "acting like a start up" and being an innovative corporation are evermore blurred.
As start ups aim to scale, and corporations strive to be agile lessons can be learned from each other.
To that point we've created MOTR (MaRS on The Rock) and Genesis REMIX.
We believe these two worlds are not mutually exclusive.
Join us as we learn, laugh, and lend a hand to local start ups and turn the tables on corporate innovators.
We promise an innovative and interactive show you'll want to be a part of.

SCHEDULE OF EVENTS
DOORS OPEN 2:30
3:00 PM Welcome and Interactive Outline – Don-e Coady, Founder, DC Design House
PART ONE: "Climb the ladder to success, elevator style" ~NOTORIOUS B.I.G.
3:30 PM MOTR: Corporate Pitch Competition Main Theatre
4:00 PM Drinks and Demo's: Interactive Break Second Space
Avalon Holographics
Woodsrunner
Project Sucseed
Help Me Order
Zambara
Seaformatics
PART TWO: "Better late than never, Never late is better" ~DRAKE
4:45 PM Founder Features: Main Theatre
Joshua Green, MYSA
Andrew Cook, Seaformatics
Jason Trask, Zambara
Jon King, Fytics
6:00 PM END
Additional Information:
This event is 19+. Deadline for registration is midnight August 16th, 2017. Event program will be available via PDF so please bring along your smart phone or tablet. In addition, a reminder will be sent 24hrs in advance to download Poll Everywhere to participate in the interactive components of the show.
How can I contact the organizer with any questions?
Please contact Michelle Kavanagh, Genesis Labs michelle.kavanagh@genesiscentre.ca