FND Tuesday, October 2nd Devil's Purse: Catherine Wright & Burning Skin: Sinha Danse
Tuesday, October 2nd 8pm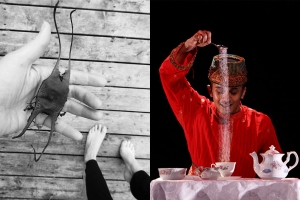 Devil's Purse: This work is an exploration of devils' purses, or mermaids' purses, which are the egg cases of the skate fish, sometimes found washed up on NL beaches. They are small in size but for Catherine Wright, they evoke a richness of imagery, feeling and metaphor.
Devils purses have been in Catherine's consciousness since the early 70s when her father Don Wright made a series of larger-than-life sculptures inspired by these intriguing, mysterious objects. She remembers them taking form on Clears Cove Beach, close to her house on the Southern Shore, where they seemed to creep up from the watery depths, forevermore to stir her imagination. In this multidisciplinary work, Catherine examines what these fragile objects mean to her at this stage of her life. Juxtapositions emerge that speak of strength, containment, loss, beauty, darkness, understanding and the unknown.
Burning Skin:
For the company's 25th anniversary, Roger Sinha revisited his 1992 success which won unanimous praise from critics and spectators. We seem to be heading more and more into a society which wants to deny the legitimate place of people of color. We see it so much now with the way we are treating refugees and immigrants. New to the work, Roger Sinha has incorporated the video, Haters 'n Baiters: The culture collision . He is rapping live while the video is projected.
Burning Skin was inspired by an autobiography entitled The Rainbow Sign by British author Hanif Kureishi, the writer of My Beautiful Laundrette . While Roger was nurturing a growing interest in his Indian heritage, this story returned him to his childhood, affecting him in an extremely personal manner. Roger draws his vocabulary from contemporary dance, martial arts, ballet, Bharata Natyam, and his own improvisation-based vocabulary. Burning Skin tells
of the violent racial confrontations of Roger's youth.
www.festivalofnewdance.ca