FND Thursday, October 4th I am a Genius Does Anyone Here Know me? Lois Brown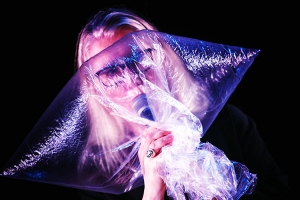 Thursday, October 4th 8pm
I AM A GENIUS does anyone here know me? uses a microphone, a 30-foot piece of paper, foil
saved from Christmas poinsettias, and an outdated dictionary I inherited from my Dad after
he died of dementia to improvise a sonic choreography of things.
I met Montréal-based composer James O'Callaghan at Sound Symposium 2016. Walking into
the Ship, I saw him performing his work "Reasons" for amplified books and electronics. I was
transfixed by the coincidental intersection of our interests. As I listened, the distinction
between thing and player collapsed, exposing a tenderness in the sonic relationality.
Ours is a personal performance exploring patience, boredom, democratization and power –
memory and dementia through a choreography of improvised play that urges us to increase
our capacity for relationality with things.
My Dad wore an orange button that said I am a genius – Everything is genius.
www.festivalofnewdance.ca