FND Friday, October 5th Our heart breaks: Sarah Joy Stoker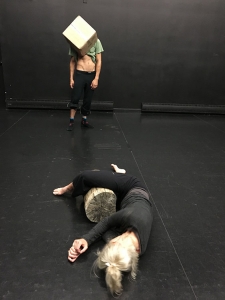 Friday, October 5th 8pm
Our heart breaks focuses on themes of ecology and extinction, industrialization, capitalism
and the disconnect between humans and their natural environments, as well as the value
placed on human rights versus non-human rights; the non-humans and/or the "innocents".
The beginning seeds of this work were orangutans and their palm oil fueled burning forests,
and boxes, cardboard boxes on our heads, boxes with bodies. Extracting and moving materials
all over the globe, without end. We are blind. We must have things. And tree stumps, the
remnants of trees, they were trees once. Human boxheads in an environment of decimated
trees, we destroy them, and we are their ghosts, because they are us and we are them.
"Strange and beautiful, sad and strong, Our Heart Breaks is a call to move. Shake off the
paralysis and despair of prolonged trauma. Our heart breaks allows us to experience our
shared grief at witnessing the death of our world. It permits us to come to a place where we
can share this burden together. It allows us to feel the truth of our witnessing. It allows us to
acknowledge our seemingly helpless complicity. But all deep feeling hold truth. Facing that
truth together means we are not looking away together. When we look together we face it
together. This is the beginning of hope." Frank Barry
www.festivalofnewdance.ca