Festival of New Dance (Auto Fiction)
October 8, 2015 @ 7:00 pm

-

October 9, 2015 @ 7:00 pm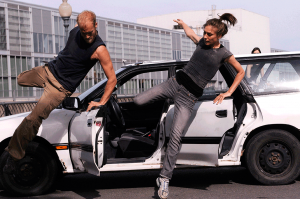 Auto-Fiction by Human Playground
OFF SITE in new location to account for the forecasted rain:
For Thursday, October 8: Library loading bay at the Arts and Culture Centre
Entrance is off Livyers Loop at the back of the ACC right next to MUN
There will be a big 4ft sign (of the poster) so it'll be easily identifiable (will also have easels set up with arrows to direct people in the building)
Length of show: 30 minutes.
Friday's show remains at Bluedrop Performance parking lot off Prescott Street until further notice.
Auto-Fiction is a work for three dancers, one car and some concrete. Created by dancer/choreographer Milan Gervais, the work explores our love-hate relationship with cars as the dancers jump, run, slid and generally propel themselves on over and through the car from trunk to hood and back. Auto-Fiction takes us on a road-trip through traffic jams, travel stories, road-rage and car crashes, bypassing the drive through and heading straight into the urban landscape of the city.
Ticket Info:
$25 general + tax + surcharge ($31.25)
$15 students & seniors + tax + surcharge ($19.95)
$10 (tax + surcharge included)  for Human Playground's Auto Fiction
$75 + tax + surcharge ($87.75)
Tickets and passes must be purchased through the LSPU Hall Box Office.
The Closing Party with TrixXxie will require a separate ticket. The location has yet to be determined.
The Off Site performance with Human Playground requires a separate ticket.
Note: Passes are not tickets and must be exchanged for tickets at the relevant venue. We strongly recommend you get your tickets early to ensure optimum seating choices.
Please note that all tickets purchased online, by phone and in person are subject to a $3 surcharge part of which goes to the LSPU Hall Building Maintenance Fund. There are no extra credit card service charges on any ticket purchase.