Festival of New Dance: Family Dinner: The Lexicon – Justine Chambers
October 6, 2017 @ 6:00 pm

-

8:00 pm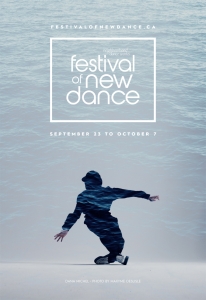 for this performance only
or
and see all the performances on Friday October 6
(see below***)
or
and see all the performances
6pm.
Family Dinner is an immersive and intimate dining performance– a cumulative project that invites the public to dine with performers. The work is at once a performance, rehearsal, embodied recording, a choreographic exploration of a shared meal and conversation with dinner guests.
The Lexicon is the choreographic culling of each Family Dinner performance to date, created for the stage. Sourcing from the body of the Family Dinner performers as an imperfect recording device, the quotidian dining gestures are multiplied and re-organized; rendering them into a tight score and presenting them back to the viewer.
Reception in Cox & Palmer Second Space after show.
Main Stage Performances $20 students and seniors, $25 general  (before HST, and Fees)
TGIF Pass $45 (before HST, and Fees)
A pass to all Friday Night Performances
Performances include:
Family Dinner: The Lexicon: Justine Chambers, LSPU Hall 6:00pm
A Crazy Kind of Hope: Dreamwalker Dance Company, LSPU Hall 8:00pm
Leftovers: Josh Martin, LSPU Hall 8:00pm
Multiform: Amanda Acorn, Eastern Edge Gallery 9:30pm
Festival Pass $100 (before HST, and Fees)
Includes all Mainstage and Multiform: Amanda Acorn performance at Eastern Edge Gallery