Feast of Cohen
January 4, 2018

-

January 6, 2018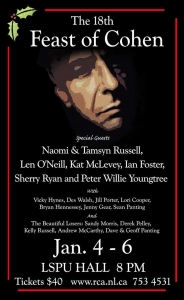 January 4-6, 2018 – 8:00pm
Tickets on sale September 21, 2017 – 9:00am
Feast of Cohen is an annual celebration of words and music by Canadian poet, novelist and singer-songwriter Leonard Cohen. A holiday tradition with local audiences and Cohen fans since December 2000.
Interpretations of old and new, familiar and not-so-familiar songs are stylized and performed by event creator Vicky Hynes; Jill Porter & Lori Cooper (The Cohenettes); Bryan Hennessey; Jenny Gear;, Sean Panting; and host Des Walsh. Special Guests for this year's Feast of Cohen are Kat McLevey; Ian Foster; Naomi & Tamsyn Russell; Len O'Neil; Sherry Ryan; and Peter Willie Youngtree; accompanied by Sandy Morris & The Beautiful Losers Band: Dave Panting, Geoff Panting, Kelly Russell, Derek Pelley and Andrew McCarthy.
Tickets are $40 and can be purchased on line rca.nf.ca or by phoning 753 4531 or by dropping by the RCA/LSPU Hall Box Office, 3 Victoria Street, St. John's.