Feast of Cohen
Event Navigation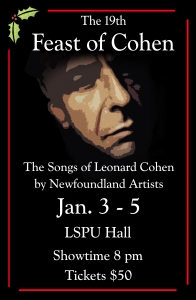 January 3-5, 2019, 8pm
Tickets on sale at noon, September 21st, 2018.
*** All three nights are SOLD OUT ***
The 19th Feast of Cohen returns to the Hall this January 3, 4, 5 with its annual presentation of Songs by Leonard Cohen. Old and new, well-known and not-so-well-known songs are selected from Cohen's songbook; stylized, interpreted and performed by Feast of Cohen organizer Vicky Hynes and her regular troupe: Jill Porter, Lori Cooper, Bryan Hennessey, Sean Panting , Jenny Gear and Des Walsh.
Also on the Feast of Cohen stage, The Beautiful Losers: Maria Cherwick, Andrew McCarthy, Derek Pelley, Dave & Geoff Panting; under the music direction of the legendary Sandy Morris.
Special Guests presenting this 19th Feast of Cohen 2019 are a delightful mix of new and established artists. They are: Mick Davis, Maggie Meyer, Tiber Reardon, Rachel Cousins, Quote the Raven, Carolina East and Mark Manning.