Empire of the Son
November 22, 2017

-

November 26, 2017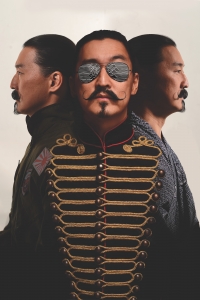 8pm.
2pm Matinee on Sunday November 26
ARTISTIC FRAUD OF NEWFOUNDLAND PROUDLY PRESENTS
VANCOUVER ASIAN CANADIAN THEATRE'S
EMPIRE OF THE SON
WRITTEN AND PERFORMED BY TETSURO SHIGEMATSU
DIRECTED BY RICHARD WOLFE
PRODUCED BY DONNA YAMAMOTO
From Vancouver Asian Canadian Theatre comes this beautiful and inventive performance about a son standing in the cultural and emotional shadow of his traditional Japanese father. In this exhilaratingly original, multimedia one-man show, actor / comedian / radio broadcaster Tetsuro Shigematsu tells the dynamic story of an emotionally distant father, Akira, whose legacy is felt beyond his lifetime. From the ashes of Hiroshima to swinging 1960s London, Akira's incredible personal history continues to influence two generations. Separated by language, culture and history, what truly keeps father and son apart are their similarities. Empire of the Son is a funny, emotional and deeply thoughtful portrayal of parent/ child relationships.