Don Ross
Event Navigation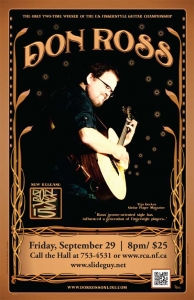 8pm
It's a great pleasure to welcome Don Ross to the LSPU Hall!
One of the finest innovators of finger style guitar playing the circuit today, Don has shared stages with many of the best guitarist to be found anywhere.
Don has toured regularly since 1989, across Canada, the USA, a dozen European countries, Japan, Taiwan, China, Australia, Russia and India. He has played with symphony orchestras in Canada and Germany, and collaborated live and on recording with Andy McKee, Canadian singer/guitarist Brooke Miller, & Toronto bassist Jordan O'Connor. He also composes scores for television, radio and film, and does production and recording engineering for a variety of other musicians. In addition to acoustic guitar, Don also plays electric guitar; slide dobro and lap steel guitar, voice, piano, keyboards, bass guitar and drums.
Here's a couple of videos to get you in the mood…one real nice finger style piece and one on the tap happy snappy side of the strings….
Berkeley Springs: https://youtu.be/-op5cj6uknE
Godzilla: https://youtu.be/IOvFXAg3oXQ
Artist Website http://www.donrossonline.com/Home.html
Facebook Event http://bit.ly/2pTykBs
Presenter Website: http://www.slideguy.net