Creative Meet-Up with the St. John's Short Play Festival
Event Navigation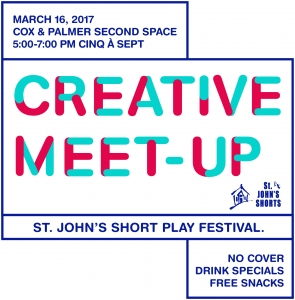 5-7pm. Free.
This month's Creative Meet-Up will be hosted by the St. John's Short Play Festival!
It takes place Thursday, March 16th from 5-7pm in the Cox & Palmer Second Space. Come down and have an after work drink and a chat with the creative team behind the St. John's Short Play Festival! No cover and happy hour drink specials!
In early 2015, a group of writers, actors, directors, and designers met at the Rocket Bakery in downtown St. John's, to talk about the possibility of coordinating efforts to put off a festival of short plays. Two years later, after a successful inaugural season at the Barbara Barrett Theatre, St. John's Shorts is set to put off its 2nd Season at the LSPU Hall.
For two weeks in September, over 12 different theatre companies will bring you as many different short plays. It's St. John's Shorts! A Festival of Short Plays. The festival is produced and created through the collective collaboration of the theatre companies involved.